Wed, 5 April 2017
MiGS38 (Classic): Last Seen…Helping Themselves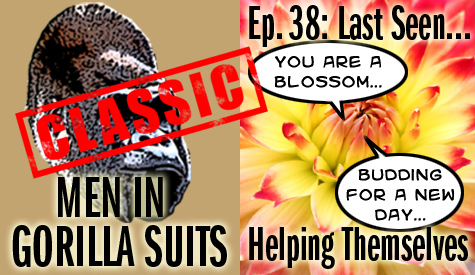 Oh, hello there, you wonderful, magical being, you. What's that sour face for -- don't believe us? You are magical...and...if you have just $99.99 to spare for our 20-cassette self-help system, you'll realize your full potential! Don't buy it, and continue to be miserable: the choice is yours. Salvation is just a credit card number away...

This week, we're all about self help! Now, we should clarify that there's nothing wrong with wanting to better yourself...even pay for help if needed. It's just, if you're going to take that step, it would seem a professional therapist might be a bit better than someone making up a pile of bullshit about how quantum physics works in an effort to sell you on yet another self-help system...
We begin the episode by talking about what image comes to our minds when we mention "self help." Then, we discuss whether or not any self-help book or system has ever helped us. After that, we leap into self-help things we've been subjected to in some manner. (It's probably pretty clear at this point that we're not the biggest fans of people preying on desperate people and selling them "help" in Holiday Inns across the country. In fact, Christopher is one degree away from someone fairly well known who "helps" people, but is really just out to take people's money...so we speak from some certain experience.)
While on the subject of self help, why not talk about Scientology and other religions that are little more than a pyramid scheme? Are they really out to help people, or is it all about pushing their own agenda? On a smaller level, we ask if there are self-help gurus who actually want to help people more than they want their money. Then we ask if self-help systems have a high percentage of success, or if they are just a scheme to help those running a system make a lot of money.
Then it's time to talk about some of the more outrageous claims made in the self-help industry. You could probably call this section of the podcast, "It's no secret how Christopher and Shawn feel about The Secret!" While hammering those who know nothing about science (but use junk science to back their claims), we roll all over certain health gurus who also make ridiculous claims in their grab for cash.
But while we don't spare the majority of an industry from ridicule, we do acknowledge the marketing machines behind the self-help industry...and how they have used social media to expand their empires. After discussing how easily people are swayed by "facts" that aren't facts, we ask the biggest question of all: "Is there any value at all in the self-help industry?"
We'd love to hear what you think about self help in the comments, and...we hope this episode of Men in Gorilla Suits helps you. If nothing else, we offer it for free!
---