Fri, 21 April 2017
MiGS55 (Classic): Last Seen…Believing Urban Legends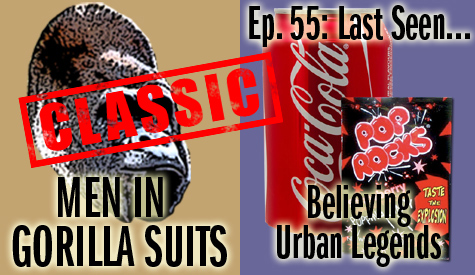 This Men in Gorilla Suits Classics episode goes back to Episode 55: Urban Legends...
* * *
The stories often seem too perfect ("...and then the doberman was choking...on the burglar's finger!"); the reassurance it's fact is shoddy at best ("I'm serious -- it's true! It happened to my cousin's best friend's boss' daughter's tuba instructor!")
The urban legend.
What is it that makes some stories endure for lifetimes, and how does the Internet play a part in their spread today? That's what we're talking about this week.
We begin the episode by discussing the most recent urban legend we've heard; in Christopher's case, it was told the night before recording this episode, proving that far-fetched stories are definitely not a thing of the past. In fact, we discuss how we live in the golden age of half-truths and bogus stories; in part, because they are so easy to share through social media. After discussing why we believe urban legends are so easy to spread, we talk about how urban legends can still endure when sites like snopes.com and other sources for answers exist.
Urban legends endure despite how ridiculous many of the stories are -- belief is more important than fact where they are concerned. We ask (and answer): "What human need do urban legends serve?" Then we step back in time and share the first urban legends we ever heard.
Some urban legends cross the line and become not just stories to share, but deep beliefs people insist are true to the end. Dispute these people's claims or present facts and it doesn't matter -- they are all in and nothing can change them. After devoting some time to that, we discuss a couple urban legends we've believed, if only for a short time. Moving on from there, we share the craziest urban legends we've ever heard.
It's clear urban legends are a big part of the human experience. Many tales, even before the age of the Internet, spread and became things people insisted were true all around the world. With Shawn and Christopher both moving about in their youth, they saw it first hand: almost every town seemed to have their own weird killers killing in the same manner as the town where they lived before, and on the outskirts of those towns there always seemed to be railroad tracks where -- if you turned your car off and sat on the tracks as a train came your way (usually at midnight) -- ghostly children who died in a bus crash would push your car to safety. We close out the episode asking each other if urban legends will ever die?
We'd love to hear the craziest urban legends you've ever heard -- share away in the comments!
---