Tue, 9 August 2016
Men in Gorilla Suits Ep. 184: Last Seen…Taking Photos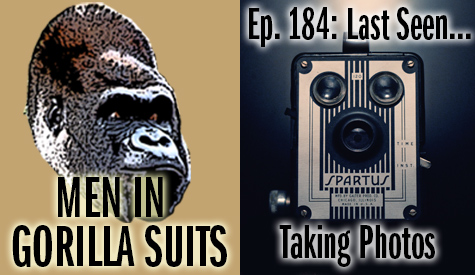 We don't know how many photos were taken worldwide in the time it took to write this sentence, but we're guessing it was a ridiculous amount.
With all the professional cameras, amateur cameras, security cameras, and smartphones, the number of photos taken in a day [even in small towns] must be high -- let alone, all around the world.
Camera technology changes quickly; the ability to take quality photos from things we carry in our pockets is beyond imagination to those who once looked at Fotomat kiosks as the epitome of convenience.
Oh, snap: the topic this week -- obviously -- is photography!
* * *
We begin by going back in time to talk about the first photos we remember affecting us...and then jump to whether or not we took many photos when we were younger. Find out what our first decent cameras were...and also if we've ever made money with photography. There's no denying times have changed when it comes to photography...we discuss whether or not shooting (and processing) film is somehow more "real" than shooting digital images.
We chat about why we think photography is such a popular form of art, and even devote time to whether or not we think photography is generally on par with painting, music, and writing. Sticking to that kind of thinking, we talk about whether or not photography gear matters in capturing good images.
It seems you can't go more than 10 minutes without seeing a selfie. We discuss whether or not the ability to share images through social media has made us vain...and how having cameras with us at all times (smartphones) has changed photography.
Find out how important photos are in our lives...as well as some of our all-time favorite photographs.
And we wrap it all up in the future...chatting about what photography will be like in the years to come.
---