Thu, 18 August 2016
Men in Gorilla Suits Ep. 185: Last Seen…Talking about War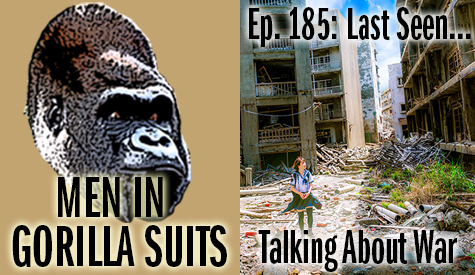 That wacky war, all good for the economy and giving nationalistic asshat Americans tiny hard-ons!
But is it all that bad? Have there been justified wars? Or is it all just proof that humans are a waste of carbon?
We talk all about war on this week's episode of Men in Gorilla Suits.
* * *
We begin this week's show on a happy note: talking about when we first became aware of war. (Fortunately, it was not in the same manner so many children have learned about war...by actually being in the middle of a friggin' war! WTF, adults?!) Then we discuss our reactions upon learning that we could die by enemy gunfire or a burst in the sky.
We then jump to whether or not we think any of America's [recent] wars have been justified...or any of our wars at all!
Things get even sadder when we chat about what has shaped history more: war or peace? Then it's on to family members who went to war, died in war, and what those who returned from war were like.
Find out if either of us have ever worked for the military-industrial complex, and then listen to us prattle on about whether or not war is good for the economy...and whether or not the American economy could survive without wars.
What's the next war we think we'll see America step into or start? We talk about that. And then we almost laugh (and cry) when answering this: do we think we'll see an end to war in our lifetime?
We wrap it all up on this happy note: is war ever necessary?
Hit the trenches, and leave a comment below if you are so inclined.
---