Tue, 8 March 2016
Men in Gorilla Suits Ep. 162: Last Seen…Being Imaginative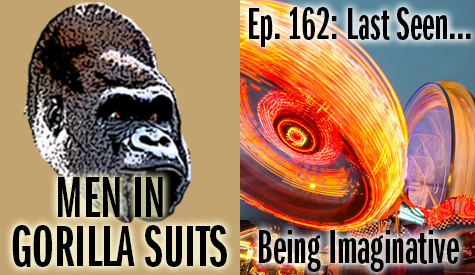 One day, several years ago, we imagined having a podcast. (A podcast made out of rainbows and songs and wind all wrapped up in the remnants of a mummy and steeped in a gallon jug of Prohibition-era bathtub gin.)
It's the only way we can imagine to describe what we do.
Or maybe we're very serious individuals lacking foresight and vision, unable to scour the depths of our minds to summon this thing called imagination.
So to remedy all that, we decided to create an episode dedicated to cotton candy memories and envisioning all the things that go bump in the night. This week, we talk about...imagination.
(If you can imagine that!)
* * *
We begin back as wee laddies, talking about the first time we were aware of this thing called imagination. After that, find out if we consider ourselves very imaginative...as well as how important imagination is to our lives.
As you know, we like chatting about society...so we chat about whether or not imagination benefits society, and whether or not there's actually room in office jobs for "outside-the-box thinking" -- or if many people using the phrase would even recognize good ideas if others handed them over.
Most people have met a person who think life is all about expression and imagination with no limits. We discuss if imagination all on its own without structure or limitations is overrated -- and whether or not imagination is inherent or something that can be learned. (It should be no surprise that we think imagination can be learned and refined, so we dedicate some time to how people can become more imaginative.)
We talk about the most imaginative creators we look up to -- and then about the most imaginative person we personally know.
Many people seem to believe that with so many distractions in life that we've all lost our attention spans and imaginations. But is that truly the case?
And we wrap up this week's show discussing what the future holds for imagination.
We like imagining everyone who listens will leave a comment. Feel free -- we're pretty harmless (except when hopped up on 1920s bathtub gin).
---