Wed, 2 March 2016
Men in Gorilla Suits Ep. 161: Last Seen…Being New Age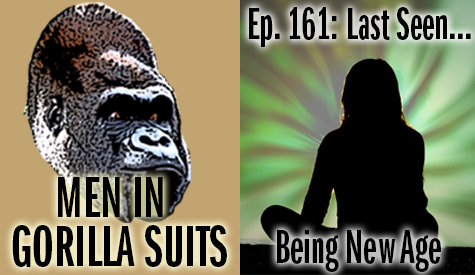 Close your eyes, and align your chakras -- we're getting all New Age up in here! Okay, so if you listen to us regularly, you know that's unlikely, but...we do try to see the good in things we [largely] don't believe. (Unless, you know, you believe in being racist, homophobic, or just generally full of hate.) We even admit that there are some things many attach to New Age beliefs that work -- including sme things we think are ridiculous.
Was the Age of Aquarius was monetized so we could all become Reiki masters, or is there something more to it all?
That's the subject of this week's episode.
* * *
We begin by talking about when we were first introduced to new age ideas, and then move on to the most useful things we've learned from the philosophies. (See, we're not totally out to discredit it all -- just, you know, most of it...like the notion that a human being contains enough energy to power a city!) We also chat about the dumbest things we've seen.
After that, we discuss whether or not we think we'll ever see a case where a new age cure trumps a scientific/medical cure. Sticking with that train of thought, we ask if there are some things that new age practitioners have right that science has wrong or yet to prove.
It's probably evident where we stand when taking sides, but we clarify it with this question: do we identify more with new age philosophies, or scientific facts?
But we really do try being fair, going as far as talking about what parts of the new age movement are misunderstood or misrepresented.
But let's be honest, when you can make any claim you want, and all you need for success is convincing a small group of people that it's a thing, it's a system that could easily be prone to fraud. So...is that the case? Also, find out the scariest advice we've ever seen given from a new age perspective (as well as the best advice).
We also discuss how we draw the line from something useful in the new age movement to something fraudulent or dangerous...and wrap up this episode chatting about what we think is the future of new age type movements.
As always, we'd love to hear your thoughts in the comments.
---