Thu, 28 September 2017
Men in Gorilla Suits Ep. 229: Last Seen…On the Water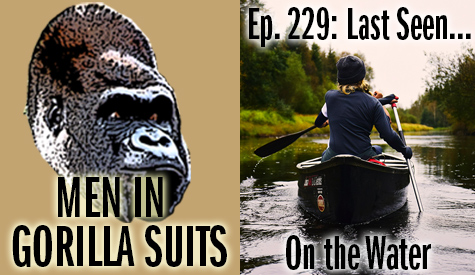 Summer's gone, and that means some lakes will soon be covered in ice. Memories of swimming and boating will have to carry some through to next year. But others have warm oceans that offer underwater dreamscapes year-round -- and it's rare in a place like Texas that a lake will ever ice over, allowing for some forms of water recreation any month of the year.
We came from water, so it's no surprise we spend so much time returning to it as well. So, this week, we're talking about water recreation...
* * *
We kick it all off with memories of our first swimming experiences -- as well as our first memories of being in a boat.
Find out if we're big fans of water recreation, or if we like having our feet planted firmly on land.
After that, we talk about the last time we did something on, in, or under water -- and things humans do in water that blow us away.
The cruise industry is pretty ridiculous, and we devote some time to chatting about if we've ever been on a cruise (or would like to).
Find out the dumbest thing we've done in the water -- and the fastest we've ever traveled across it.
Do the Gorillamen SCUBA dive (or would they like to learn)? Find that out -- as well as our most memorable experiences on the water.
Water freezes in some places...and the Gorillamen have lived in those kinds of places. We chat about things we've done on ice -- and then wrap it all up talking about something we'd like to do on, in, or under water someday...
Feel free to share some of your best water memories in the comments section.
---