Tue, 3 October 2017
Men in Gorilla Suits Ep. 228: Last Seen…Talking about Horror Movies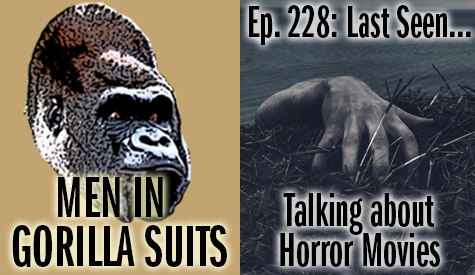 It's October and -- somehow -- we've not talked about horror movies in hundreds of episodes. So...we remedy that.
* * *
It's a busy week in Gorillamenville, so no real commentary -- just what we discuss this episode:
What's the first horror movie you remember seeing? What impression did it make on you?
Are you a fan of horror movies?
What was the last horror movie you saw?
When was the best era for horror movies?
The worst?
What's the best horror movie you've ever seen?
The most fucked-up?
What makes a horror movie work, in your opinion?
Assuming you are exactly as you are now (no special powers, etc.), which horror movie could you best survive?
What's the dumbest horror movie you've ever seen?
What's the future of horror movies?
---