Mon, 29 May 2017
MiGS92 (Classic): Last Seen…Talking about Death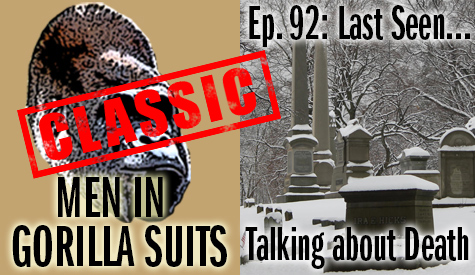 This classic Men in Gorilla Suits episode is about...Death!
Guess what? One day, you will die.
Shawn will die; Christopher will die.
Everybody dies.
It's such a cheery little topic, we decided to talk about death this week!
We begin by talking about our earliest memories that life one day ends -- and what caused that realization for us. Then we jump to discussing if we've ever been present when somebody has dies...and how it affected us.
Death can come slowly or instantly, and the way it hits people can vary. We dedicate some time to that before moving on to a short question: are you afraid to die?
Next, we take on the roll of a psychic and predict the ways we think we will die. Keeping the snowball of happiness rolling, we ask each other if we've ever thought about taking our own lives and...if we could find out when and how we will die, would we want to know?
As serious as death is, sometimes the way people die is strange...even funny. We talk about some of the stranger and humorous ways we've heard about people dying and then talk about movies.
Death is often the focal point of stories because we've all experienced someone dying. We talk about the best movies deaths we've seen. (We'd love to hear your answers in the comments below.)
There are usually rituals after someone's passing. We ask each other if there's a proper way to mourn one's death, and then talk about what we believe happens to us after we die.
We close out this week's episode by talking about what we would do differently with our lives if we found out we only had a year to live.
As always, we'd love to hear your thoughts about death and this episode in the comments.
---