Thu, 26 January 2017
Men in Gorilla Suits Ep. 208: Last Seen…Talking about Other Dimensions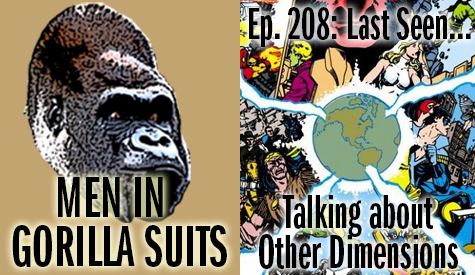 Christopher might be writing this from Earth-13. But in Earth-27, Shawn is Christopher...but he might be a minotaur in a trenchcoat who starred in Earth-975's version of Highlander. Because really, that's all I (I mean Shawn) has ever aspired to being (and doing).
But in Earth-4,285,792, everything happened exactly like this, but Christopher is a black lab hoping you believe that Shawn is a minotaur.
The best thing about Earth-4,285,792? Obama is still president...and Abe Vigoda is still alive. (Almost as great as Earth 7,926, where Abe Vigoda is president!)
This week, we're talking about other dimensions...
* * *
We kick it off talking about our understanding of the Mandela Effect, and then jump to discussing if we believe in parallel universes/multiverse theories.
Find out how we conceive alternate realities, and find out if we believe we are all moving among different realities all the time.
Then we talk about something we can prove is real: stories about alternate realities. (At least in the dimension/reality in which you are listening to this. Unless it's a dimension where you can listen to podcasts from other dimensions. Anyway...) We talk about the best, worst, and silliest works of alternate realities fiction.
After that, we chat about what advice we'd hope other versions of ourselves would offer us if we somehow visited other dimensions where other versions of us exist.
Then we discuss whether or not we find much credibility in the conspiracy theory that "aliens" are from an alternate dimension (disclaimer: credibility AS COMPARED TO the conspiracy theory where they come from other planets)?
We talks about what the best -- and worst -- versions of ourselves might be doing in other dimensions. And we wrap it all up with a discussion about our belief (or disbelief) that science will find a way to not only prove, but view/visit other planes in the multiverse?'
In another dimension, you've already left a comment below, but in this reality you have not. Feel free...we do not bite!
---