Thu, 3 November 2016
Men in Gorilla Suits Ep. 196: Last Seen…Being Annoyed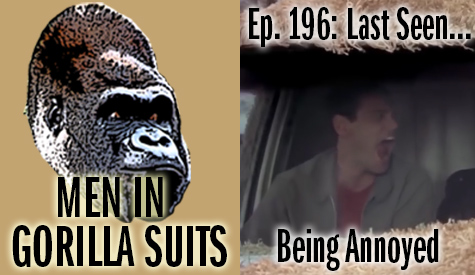 We recorded way later than usual this week, and to top that off, game seven of the World Series went into extra innings...so Christopher didn't get to put the episode together after recording. But here it is, all shiny and chrome the morning after the Chicago Fuckin' Cubs won the Motherfuckin' World Fuckin' Series!
# # #
Just the list, again, since the show is going up a bit later and there's a bit of a rush this week with other things...
What is the first thing you remember annoying you?
What is the thing that annoys you today?
Are you easily annoyed these days?
How do you handle annoying people?
Have you ever been accused of being annoying? (And was the accusation accurate)?
What is the last thing that annoyed you?
People say technology is the greatest thing…when it's working correctly. Do you think technology has added to our annoyances? (If so, how?)
Do you think people look for reasons to be annoyed? (If so, why?)
"First world problems" has become a rallying cry by those who are annoyed by people who are annoyed over little things. But…are there annoyances (even those deemed "first world problems") that are justified? (If yes, what are some of those things?)
Most of us have seen a news story about people who reached a certain point where something minor was the last straw for them snapping. How bad are accumulated annoyances?
For those who are easily annoyed, what are some things you'd suggest for letting some of that stress go?
In the coming years, do you think humanity will become more annoyed by things, less annoyed by things, or just stay the same level we're at now?
---