Tue, 27 September 2016
Men in Gorilla Suits Ep. 191: Last Seen…Talking about Class Systems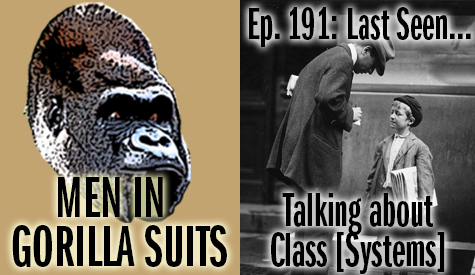 Men in Gorilla Suits consists of two middle class guys doing a thing they enjoy doing. Sometimes we talk about serious issues. The class system in America affects many people, and that's what we're talking about this week...
* * *
We kick the week off by talking about which class we consider ourselves to be -- as well as chatting about the class or classes we've lived in over the course of our lives.
We discuss whether or not a class divide exists in America, and what other factors (besides money) contribute to class hierarchy.
We devote some time to how we've seen different classes treated in the towns where we live...and if we have ever treated people differently based on the class they are in.
There's much talk in this political season about the erosion of the middle class, so we talk about that a bit -- and then we move to whether or not it's possible to move up or sideways in a class structure.
Much of the heart of this week's episode resides in this discussion point: In America, do you think that a lot of what some people do is to avoid moving down in the class structure? Or is it to try to move up?
Find out how we'd solve the class problem in America...and what we feel the future holds for class systems.
---