Mon, 5 September 2016
Men in Gorilla Suits Ep. 189: Last Seen…Culturally Accelerating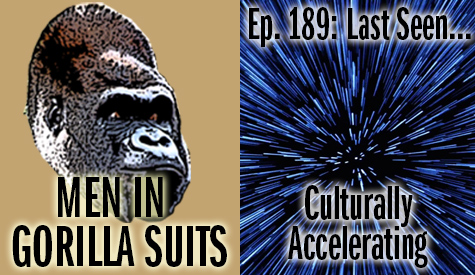 Wasn't there just an Avengers or Captain America movie? What music is popular this month? You've seen Stranger Things, right? Oh yeah, can I get a cheer for FOOTBALL SEASON?! Geeks have finally won the good fight, to the point that even geeks can't keep up with the very thing they are.
Pop culture has always moved along with speed. For years, top 40 music lists changed on a weekly basis. TV shows came and went. Movies were once only there for a week or two before moving on.
But with craving comes ways to get more. Music got more diverse, cable and the Internet changed the ways we thought about television, and now theaters have 25+ screens to keep up with demand.
Wrap it all up in hundred dollar bills, and people will churn out as much as Americans (and the rest of the world) can consume. (Because if we're good at one thing in America, it's consumption!)
Today, you so much as blink and you missed 20 trends. Add to it Internet memes, YouTube videos, and so many other things, and it seems like we're all traveling near the speed of light and still being passed by pop culture.
Cultural acceleration is the topic of this week's Men in Gorilla Suits!
* * *
We begin with something not-at-all about this episode: talking about the fastest we've ever traveled in a motor vehicle. Then we get into this week's actual topic, kicking it off with whether or not culture seems to have sped up.
We jump to a cultural trend we found out about after it had it's time in the spotlight...and chat about whether or not missing it made us feel old.
Find out when we last felt we were on the cutting edge of culture -- and the first thing to happen culture-wise that we just didn't get, or that even made us feel irrelevant.
We then discuss whether or not we think there's an age when one naturally fades from the cutting-edge of pop culture. After that, we talk not only about if there are pop culture standbys that always remain relevant...and what those things might be. Find out why we think some things will always work on a cultural level.
Because we're middle aged, we devote time to discussing if we think people in their late 30s - 50s have always felt that culture speeds up relative to their age -- or if culture really is accelerating.
And we wrap it all up with this: what's the next big pop culture thing?
We know it's so early 2000s to leave a comment on a blog, but if you are so inclined, have your say!
---