Wed, 9 August 2017
Men in Gorilla Suits Ep. 224: Last Seen…Talking about Real Estate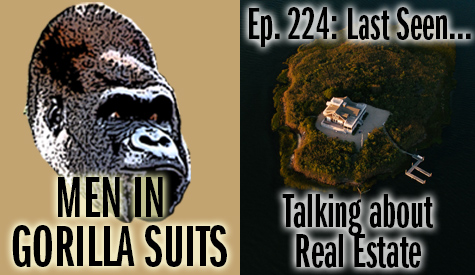 The American Dream has always been tied very closely to housing. The small house in the suburbs is what we were sold, even though -- for many -- it might be owning an apartment in a large city or off the grid in the middle of nowhere. The dream of owning a home has been exploited, leading to financial crisis -- but it's also been an indicator of financial health when all is well.
Entire networks dedicated to house hunting and restoration have popped up on television, and books and magazines (and websites and independent video channels) ensure we can consume our love for real estate any time we want. So it only made sense that we finally talked about buying houses! (Well, that -- and Shawn closed on a house yesterday...and that's been on his mind for more than the last month!)
* * *
We begin with the first time it hit us that people bought houses. After that, we talk about how old our parents were when they first purchased a house. We also chat about whether or not we've ever set out to purchase a home...and share odd stories about our hunts.
We discuss what made us want to buy a house and -- in the case of Christopher -- why he passed on one years ago. Next, we devote some time to what surprised us about the house-hunting/house-buying process...as well as the most annoying aspects of looking for a home.
We pause to describe our ideal dream houses -- and then jump to whether or not we think home ownership is on the decline (and if so, if it's the fault of Millennials...because if headlines tell us nothing else, it's that this may be the last podcast you listen to before nuclear war with Korea...and that Millennials kill all the things!)
And, as always, we wrap it all up with a look toward the future, this time speculating about what the coming years hold for home ownership.
---
Thu, 3 August 2017
MiGS Ep. 75 (Classic): Last Seen… Talking About Religion
Welcome, children. Today we will read from the 47th Psalm of Gorilla. Please open your study bibles to page 3.14159, and have a blessed day.
When two guys like Christopher and Shawn talk about religion and don't immediately burst into flames, they've either done something very wrong or very right. As this is one of our most listened-to episodes of all time, we're going to bet on the latter, though that flame-bursting could be around any corner...
Enjoy this classic episode!
---
Wed, 26 July 2017
Men in Gorilla Suits Ep. 223: Last Seen…Looking Behind the Scenes
On the Men in Gorilla Suits website, we have a behind-the-scenes look at our old process for putting the show together. It's a bit dated -- we now have mixers, different recording gear, and a few other things -- but we've been told it helped some people take that first step and record something of their own...
There was a time when seeing how things were made was a mystery, but today documentaries, DVD and streaming movie extras, and myriad websites give people a peek behind the curtains of how things are done.
But it's not just entertainment -- humans want to know what governments and others are doing behind the scenes. So...we decided this week's show should be about all those things [and more]...
* * *
We start in the past, with our first memories of information we were originally not privy to, but eventually saw. After that, we talk about how much we enjoy looking behind the scenes of things...and what we think the appeal of those peeks is.
If you've listened to a few episodes, you've probably heard us talk about documentaries. We chat about some of our favorite peeks behind the scenes...going as far as if we've taken tours to get a different look at things.
Privacy and secrecy naturally get our attention. We discuss if we've ever been privy to information very few are aware of -- and what we've revealed about ourselves and the processes we follow. We also tackle this: is it better to be open and share information, or protect it and keep things to yourselves?
In recent years, highly visible cases of whistleblowers and people leaking government secrets has made the news. Find out how we feel about those sharing behind-the-scenes information with the masses -- as well as how much transparency governments and other large groups should have with your average person.
We get back to light-hearted information and chat about something we'd love to see behind the scenes...and we wrap up this week's show talking about if we think we'll see more -- or fewer -- looks behind the scenes of things in the future.
---
Wed, 19 July 2017
MiGS Ep. 116 (Classic): Last Seen… Becoming Obsolete
Oh, hello there. Didn't see you come in. You're looking mighty fine in that polyester lesiure suit.
Some might say you're out of date or obsolete, but we would never say that. The Gorillamen invite you to come inside, crack open a Zima, and experience the best -- and the worst -- of things that have gone obsolete in this classic episode.
Also, Shawn used to vomit Two Dogs Malt Beverage. In spades. Real talk.
---
Wed, 12 July 2017
Men in Gorilla Suits Ep. 222: Last Seen…Having Empathy
Hello, friend, and welcome to your place online where we understand what you're feeling. At Men in Gorilla Suits, we consider why you are the person you are -- even if you're an evil super-villain with a swelling brain ready to wreak telekinetic havok on the masses. We're not saying it's right that you want to act out against society because you were never hugged, but some humans who never had a bit of support in life don't know how to be. There, there, Swelling Itching Brain -- come on in for a group hug and all will be right again...
This week, we're talking about empathy...
* * *
We start as we often do, back when we were younger. Find out the first time we felt something for someone else -- as well as if we consider ourselves empathetic individuals. Also: have we gotten more or less empathetic as we've gotten older?
After that, we talk about whether or not the world is harder for empathetic people...before moving on to what the opposite of empathy looks like.
Has the Internet made us more [or less] empathetic? We talk about that -- as well as how the current political climate has affected empathy.
Find out who the most -- and least -- empathetic people we know are. We also cat about the best -- and worst -- examples of empathy in popular culture.
And, as we often do, we look to the future at the end of the show...this time, what the future looks like for empathy.
If you're feeling this episode, let us know in the comments...
---
Tue, 4 July 2017
MiGS Ep. 14 (Classic): Last Seen... Being Peeved!
You really piss me off, Jim. Human life is far to precious to waste on crazy stunts!
This week's classic episode is all about things that piss Christopher and Shawn off, but, you know, not that much. We're talking about Pet Peeves this week (OK, we talked about them many weeks in the past, whatever). Enjoy this classic episode from the early days of Men in Gorilla Suits, and we'll be back with a new episode next week!
---
Tue, 27 June 2017
Men in Gorilla Suits Ep. 221: Last Seen…Talking about Design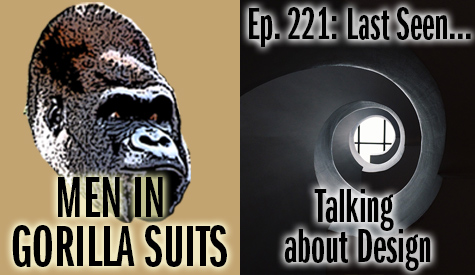 There is design to this page. There is design in most things you interacted with today...probably without your recognition.
Whether it's advertising or truly functional user experience; the place you live, or even your thoughts...many people put great effort into influencing others with design.
Hell, some people do it all simply for the sake of design.
This week, we're all about the D!
* * *
We begin with our earliest memories of people putting in an extra effort into this thing called design. After that, we chat about how aware we were of the effort put into everyday design. (Shawn's epiphany in and Arby's is rather beautiful!)
We chat about whether or not we've designed cool things...and what those things might be.
How does design affect mood? We talk about that...as well as how environment and upbringing affect design.
We get all hypothetical and chat about if we could be a designer of any sort...what we'd make. Then we talk about our favorite designers and what they've done.
How important is technology to design -- we chat about that! We also chat about how important design is to advertising. (Spoiler: it DRIVES advertising in every way!)
Some people love what they know. Are some designs so sacred that we should never alter them? We talk about that before wrapping it all up with the future of design...
These show notes are designed to filter down to driving people to a call to action in the comments. We understand that there's enough going on in our lives that commenting on a podcast blog is a thing of the past, but if you are so inclined...we will listen!
---
Fri, 23 June 2017
MiGS Ep. 110 (Classic): Last Seen... Talking About Rap and Hip-Hop
I know what really keeps you up at night. You're wondering, most of all, what two middle-aged white guys think about hip-hop and rap music.
There, there. It's all right. Your brilliant and not unattractive gorillamen are here to help, yo. Christopher and Shawn, the two whitest men on the planet, got together to talk about hip-hop, and now you get to hear it all over again. So pour yourself a gin and juice and enjoy this classic Men in Gorilla Suits Episode.
Word to your mother.
---
Wed, 14 June 2017
Men in Gorilla Suits Ep. 220: Last Seen…Talking about Metal Music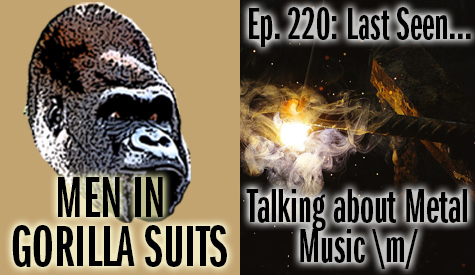 For the past couple years, Gorillaman Shawn has done another show -- a weekly look at metal bands and their influences called Metal DNA. While Christopher doesn't listen to much music these days, he was once rumored to rock out to Twisted Sister opening for Iron Maiden on Maiden's Powerslave tour in the mid-ish 80s. So it's a bit surprising that it took 220 episodes to talk about METAL!!!
And, because it must be shared whenever metal is mentioned, there's this:
* * *
We kick it off with the first metal songs we ever heard...as well as how we heard the tune (i.e. who got us into metal). After that, we talk about the best -- and worst -- genres and eras of metal for us.
We devote a bit of time to our all-time favorite metal bands, and then we jump into our fave metal tunes of all time.
Metal fans are a dedicated breed of all kinds of people, but there's definitely a stereotype for metalheads. Do they live up to that stereotype? We chat about that before discussing some metal shows we've seen live. (As well as a story about Christopher's one and only sad blind date.)
We like talking about time machines on Men in Gorilla Suits. Find out what metal concert we'd see if we could go back in time. And in the present, we talk about the most recent metal we've heard.
As [almost] always, we wrap up this episode with a look to the future, discussing what the coming years look like for metal and its fans.
Feel free to rock out in the comments if that's your kinda thing \m/
---
Fri, 9 June 2017
Men In Gorilla Suits Classic Episode 63 - Last Seen... Working
In this classic episode, we revisit the far-off land of April 2014, when Shawn was a drone at Microsoft and Christopher was a responsible adult holding down a real job. We get to hear the massive number of jobs the gorillamen have had, revisit their worst jobs, and hear them plug their writing, because that's what they did in the past.
Sho' Nuff!
---