Wed, 23 March 2016
Men in Gorilla Suits Ep. 164: Last Seen…Listening to Prog Rock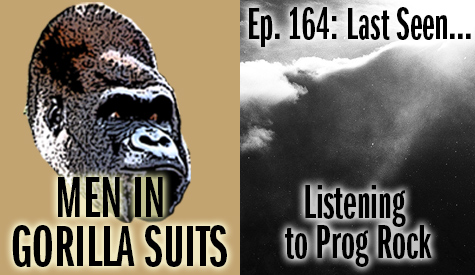 Combine the elitism of the staunchest fan of classical music with desperation and a Hammond keyboard or synthesizer and what do you get?
Progressive rock!
Ah, prog rock, you wacky thing. The musical equivalent of an awkward night of Dungeons and Dragons with a table full of mouth-breathing cretins; the music of "nice guys" and straight up assholes who thought the best way to win over the opposite sex was by telling them how wrong they were in their musical choices -- and to prove it, put on Yes' Tales from Topographic Oceans or Relayer (or worse for the unsuspecting woman: both albums back to back!).
We are not beyond seeing the weakness and ridiculousness in the things we held [or still hold] dear to us. But come on...entire albums dedicated to a concept was going to win over only a handful of people, regardless of gender. But for those of us who "got it" new worlds opened to us. Prog rock -- largely -- was the realm of desperate men who thought, "If I can't beat the crap out of the jocks, I can at least show off how intellectually superior I am to EVERYONE by my choices in music." (Or maybe you just liked the music -- it's possible.)
If it sounds like we're going to dedicate the next hour to slamming on prog rock and its fans, you're wrong. Cut us, and we bleed musical synthesizer backing layers in weird time signatures, wrapped in fantasy lyrics (and so much more).
We will defend how hokey what we love was [IS!!!] until our last breath.
Yes (<--- see what we did there?)...this is our tribute to the very music that kept us alive through our teen years and into adulthood (and hell, a blood that still flows through us today): prog rock!
* * *
We kick off this episode Living in the Past, when we talk about the very first bit of prog rock we remember listening to. Then we move on to how we define prog rock...and even show our hand and reveal whether or not we find prog rock just a bit hokey or not (and why).
MUTHAFUCKIN' SYNTHESIZERS, Y'ALL!!!
Can prog rock exist without synthesizers? Or, at the very least, we discuss just how important synthesizers are to progressive rock. Closely on the heels of the synthesizer is the concept album in its importance. We discuss not just the appeal of the concept album, but share what we feel is the ultimate concept album. (We match up on this one!)
Prog rock existed in a very tight time in popular culture -- and we'd be remiss to not address the link between prog rock and the many other things that came to light during that time. So we devote time to that.
And while we define what we feel makes up prog rock, there are bands that many don't put on their lists of progressive rock bands. We chat about those bands before coming out and telling you all what are our favorite progressive rock bands.
Face it: prog rock is trippy. We talk about the importance of drug use on the music, and then jump to whether progressive rock is largely the domain of guys -- or if it crosses genders. (But come on...largely, at least, it's a sausage fest!)
In the homestretch we discuss what we deem the ultimate prog rock album -- and wrap it all up with the influence of prog rock on modern music...and even music in the future. (Because we must have waited our whole lives for this moment (X6!).)
Feel free to share your favorite prog rock moments, bands, or anything else in the comments (because if you like prog rock, we know there are few things in life more important than establishing who you are by the bands you still love...and should you feel that's a poke at you, prog rocker-man (face it: odds are, you probably have a penis -- with an exception or two of female regulars to the show!), the person writing this is listening the Jethro Tull's "Jack in the Green" while typing this...and while [Christopher] will admit that there is a bigtime hokey factor on Songs from the Wood, he will stab you in the eye with a holly branch as he draws his last breath in defense that the album is one of the best homage's to nature ever written..)
So yeah, pass the Cup of Crimson Wonder...and let your hair blow in the breeze!
* * *
One more thing: in the episode, we tease a fellow podcaster named Mitch Todd about a prog rock tune he was once part of. We say "tease," but if you replace "tease" with "secretly admire," it's probably more accurate. So we give you the best thing to EVER come out of the God-forsaken state, Oklahoma: Zyrian doing "Winds of BAAG." (Down to the featured Wendy's cup, everything about this is GLORIOUS!!!)
And if you want to hear an interview with Shawn on Mitch's podcast, go here.
And to hear Christopher and Mitch come up with a monster on the fly, go here.
---
Wed, 16 March 2016
Men in Gorilla Suits Ep. 163: Last Seen…Being Authentic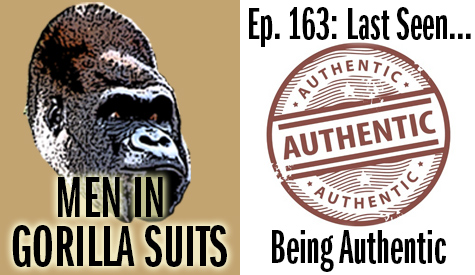 Christopher just read a Facebook post about a podcast that just hit 163 episodes. They have 1 millions downloads (and good for them). To put that in perspective, this is our 163rd episode, and we're at 8,815 total downloads.
Here's the thing: we could look at our biggest episodes ever and be like, "All we should talk about are movies, TV, music, the 80s, and…poop! (Oh, and religion.) Seriously, those are the topics of our big episodes. But…if that's all we talked about, the people who love that we talk about such a wide range of things would be like, "Uhm…if I wanted movie talk every week, there are better sources."
This much we know: people appreciate that we're just us. Granted, we could pretend to be what we're not (and probably get more downloads), but this is the show we want to do.
It goes against everything people say in conferences and meetups, but the show exists for us, and if you like it, cool. If you don't, well…that's also cool.
We can only be what we are, and if we are nothing else, we are…authentic. And that matters to some, as we chat about this week on Men in Gorilla Suits.
* * *
We kick it all off talking about the first time we heard something was "authentic." Then we move on to right now and people's obsession with things having to be "authentic."
It's probably clear just by reading this that we believe "authentic" is up for debate. So we devote some time to whether or not we have a preference between authentic and less-than-authentic (manufactured, modified, etc) experiences.
If you listen to us, you know we believe wars could be stopped if people gathered at a table and shared a good meal. Food is a great way to learn about others. We discuss the most authentic Mexican food weve ever had — as well as the least!
But we're not down on unauthentic stuff; in fact, we chat about whether or not there's something to be said for inauthentic stuff (cuisines, experiences, music, entertainment, etc.). And then we get political.
Find out if we believe "authenticity" is part of the appeal of candidates like Trump and Sanders — and if we believe either are truly authentic.
Also find out if there are things we feel are important to be authentic…as well as what we let slide.
We close out this week's episode with the least — and most — authentic experiences we've ever had.
Feel free to leave an authentic reply in the comments. We'll even give you an authentic reply.
---
Tue, 8 March 2016
Men in Gorilla Suits Ep. 162: Last Seen…Being Imaginative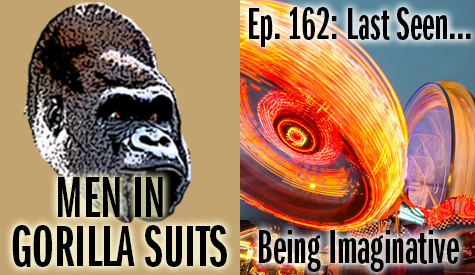 One day, several years ago, we imagined having a podcast. (A podcast made out of rainbows and songs and wind all wrapped up in the remnants of a mummy and steeped in a gallon jug of Prohibition-era bathtub gin.)
It's the only way we can imagine to describe what we do.
Or maybe we're very serious individuals lacking foresight and vision, unable to scour the depths of our minds to summon this thing called imagination.
So to remedy all that, we decided to create an episode dedicated to cotton candy memories and envisioning all the things that go bump in the night. This week, we talk about...imagination.
(If you can imagine that!)
* * *
We begin back as wee laddies, talking about the first time we were aware of this thing called imagination. After that, find out if we consider ourselves very imaginative...as well as how important imagination is to our lives.
As you know, we like chatting about society...so we chat about whether or not imagination benefits society, and whether or not there's actually room in office jobs for "outside-the-box thinking" -- or if many people using the phrase would even recognize good ideas if others handed them over.
Most people have met a person who think life is all about expression and imagination with no limits. We discuss if imagination all on its own without structure or limitations is overrated -- and whether or not imagination is inherent or something that can be learned. (It should be no surprise that we think imagination can be learned and refined, so we dedicate some time to how people can become more imaginative.)
We talk about the most imaginative creators we look up to -- and then about the most imaginative person we personally know.
Many people seem to believe that with so many distractions in life that we've all lost our attention spans and imaginations. But is that truly the case?
And we wrap up this week's show discussing what the future holds for imagination.
We like imagining everyone who listens will leave a comment. Feel free -- we're pretty harmless (except when hopped up on 1920s bathtub gin).
---
Wed, 2 March 2016
Men in Gorilla Suits Ep. 161: Last Seen…Being New Age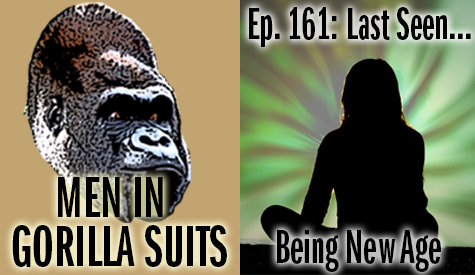 Close your eyes, and align your chakras -- we're getting all New Age up in here! Okay, so if you listen to us regularly, you know that's unlikely, but...we do try to see the good in things we [largely] don't believe. (Unless, you know, you believe in being racist, homophobic, or just generally full of hate.) We even admit that there are some things many attach to New Age beliefs that work -- including sme things we think are ridiculous.
Was the Age of Aquarius was monetized so we could all become Reiki masters, or is there something more to it all?
That's the subject of this week's episode.
* * *
We begin by talking about when we were first introduced to new age ideas, and then move on to the most useful things we've learned from the philosophies. (See, we're not totally out to discredit it all -- just, you know, most of it...like the notion that a human being contains enough energy to power a city!) We also chat about the dumbest things we've seen.
After that, we discuss whether or not we think we'll ever see a case where a new age cure trumps a scientific/medical cure. Sticking with that train of thought, we ask if there are some things that new age practitioners have right that science has wrong or yet to prove.
It's probably evident where we stand when taking sides, but we clarify it with this question: do we identify more with new age philosophies, or scientific facts?
But we really do try being fair, going as far as talking about what parts of the new age movement are misunderstood or misrepresented.
But let's be honest, when you can make any claim you want, and all you need for success is convincing a small group of people that it's a thing, it's a system that could easily be prone to fraud. So...is that the case? Also, find out the scariest advice we've ever seen given from a new age perspective (as well as the best advice).
We also discuss how we draw the line from something useful in the new age movement to something fraudulent or dangerous...and wrap up this episode chatting about what we think is the future of new age type movements.
As always, we'd love to hear your thoughts in the comments.
---
Wed, 24 February 2016
Men in Gorilla Suits Ep. 160: Last Seen…Having Regrets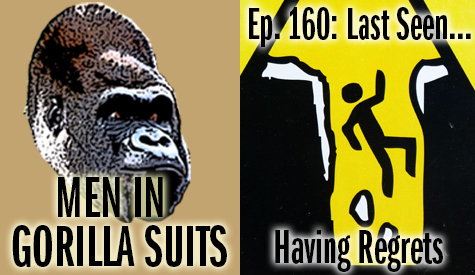 We'll get right to it: you want to know our greatest regrets -- the things we are most ashamed of -- it's all right here! (Okay, and Christopher, at Shawn's request, talks about the time he found his father in the basement doing surgery on himself.
Seriously!
Ralph Bertil Gronlund may have been a man wrought with regrets, but he did shit his own way...
* * *
We kick it off by talking all about the first time we became aware there was this thing in the world called regret. After that, we define regret...and chat about whether or not it's possible to live a life without regrets.
Want to know what we regret in life? We talk about that shit...and then we discuss people [not by name -- we're not assholes] we know who are torn apart with regrets to the point that life is hard for them. (And, sadly, a lot of people are like, "Get over it!" to them. Ah, were it that easy for those people...)
Sticking to that, we chat about why some people have a tougher time with regrets, while people like us are like, "Ah well, there was a time in the past when we were stupid...and even did horrible things..."
We step back to the "Get over it!" advice, talking about whether or not that's a realistic bit of advice when dealing with people who carry regret. (By now, it's probably clear that we are not heartless bastards and feel for those around us.)
We love technology on this show, so...we devote time to how technology affects people's regrets...as well as how simply being an American (and what we "stand for") can play into regrets.
If we had a time machine, find out the one thing we'd go back to in our own lives and change. But let's be honest: the present is where it's at. We talk about if there's anything we're doing right now that we might one day regret -- and what we can do today to prevent that from ever happening.
And while we were scheduled to talk about what advice we'd give to a person torn up by regrets, we had such a great time with this episode that Shawn thought Christopher was setting him up for our end catch phrase. But it's probably fair to say we'd each have said something like, "Get professional help, and realize we all make mistakes. Find a way to love yourself and see your good, no matter what terrible things you did in your past. They're probably not as bad as you imagine them to be." (Seriously, Christopher really did something shitty to a kid in his neighborhood, but the past is the past...)
And don't regret not sharing your greatest regrets in the comments.
---
Wed, 17 February 2016
Men in Gorilla Suits Ep. 159: Last Seen…Volunteering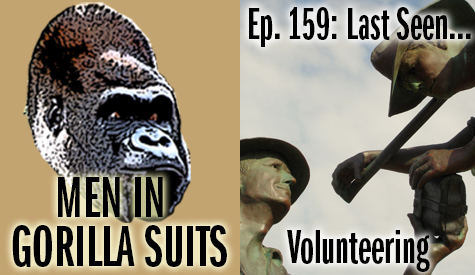 Some people feel it's a huge obligation to help others, while others are mostly interested in helping themselves and a few people close to them. Is one view of society right and the other wrong? What about those who volunteer more to boast about all they do, rather than actually helping causes? Can a person be like, "Fuck it -- I look out for Numero Uno," and still be decent...or must we all give more of ourselves than we have to give? (And at what point is giving convenient and actually a personal sacrifice?)
In short, is there a proper way to volunteer one's time?
That's what we're talking about on this week's episode of Men in Gorilla Suits.
* * *
We kick it all off by talking about how often we volunteer our time, and quickly jump to the last time we volunteered. On that topic, we discuss what we last did to help others -- and why we volunteered our time and energy.
Want to know if we've ever volunteered to get something in return? Well, listen in 'cause we talk about that. And also find out our ideal volunteering scenarios.
After that, we chat about whether or not we've been forced by loved ones or even the state to volunteer our time...and then we move on to our worst -- and best -- volunteering experiences.
Are we so ingrained with volunteering that others volunteered their time for something we organized? And is there a societal obligation to volunteer?
We close it all out by talking about how often we've volunteered for things no one else wanted to do.
Feel free to volunteer a little bit of your time and leave a comment about this week's episode.
---
Wed, 10 February 2016
Men in Gorilla Suits Ep. 158: Last Seen…Taking Risks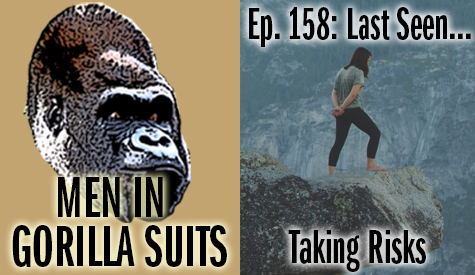 There was a time when men were men and took great risks. (And the world was even more sexist than it still is.)
Today, it's not hard to find some middle-aged guy talking about the "Pussification of today's youth," when they rarely did anything to merit any real degree of boasting. But to hear them tell the story, we were all hanging from hot air balloons from threads of dental floss while today's younger people are living in a world of cushions and hugs.
The thing is, that's all bullshit. Men and women have always taken risks to various degrees, and still do today. That's the topic this week -- not the board game, Risk, but actual risky behavior and how it's shaped humanity.
* * *
We kick off this episode talking about the first time in our lives when we realized there was this thing out there called risk. After that, we discuss whether or not we were risk-takers when younger...and whether or not we are today.
We chat about the greatest risks we've taken...as well as the funniest.
Is physical risk the pinnacle of risk, or are there other kinds of risks that eclipse even the kinds of things that can kill us? Also: find out what we've learned about ourselves by taking risks.
Risk has become a bit of a buzzword. Go to a conference of many sorts, and you'll hear people saying that even things as normal as blogging and podcasting are "risks." Are those actual risks -- and is "Take more risks!" good advice, or just a platitude?
After that, we talk about if what constitutes risk has changed over the years or remained the same. We also discuss the point at which taking risks is unwise.
We weren't kidding in our intro about hearing middle-aged men talking about today's youth being "pussies." But is there any truth to the notion that millennials don't take risks?
Then we drag out our imaginations and pretend we have kids. Find out how we'd deal with having kids who are thrilled by taking great risks.
And we wrap it all up with a look to the future -- and whether or not humans will reach a point of maximum risk achieved...or if we will always find new risks to take.
Take a risk and leave a comment if you'd like...we'd love to hear about some of the risks you've taken in life.
---
Wed, 3 February 2016
Men in Gorilla Suits Ep. 157: Last Seen…Being Strong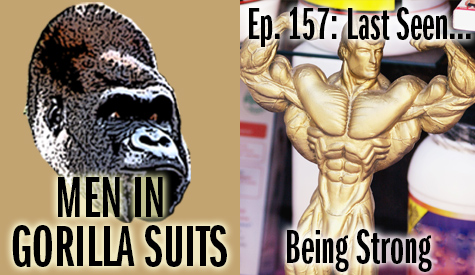 When thinking about strength, most people seem to think about physical strength. We've all seen circus strongmen, female body builders, and even wiry-looking people who can seemingly dead-lift a Yugo.
But strength goes well beyond just physical strength. We've all heard tales of people lost in extreme conditions who only survived because they were mentally strong. Emotional strength is craved as much as physical strength by others.
This weak is all about strength! (<------ See what we did, there? "Weak." That's some STRONG comedy right there. Or maybe lack of sleep...)
* * *
We begin with the first time we ever looked at someone and thought, "Damn, they're strong!" Find out if it was physical, emotional, or mental strength we first witnessed. Then we talk about what comes to mind when someone mentions strength. Next, we discuss what we feel is the most important kind of strength: physical, mental, or emotional. (And we even define what the difference between mental and emotional strength is to us.) Also: Is physical strength even relevant these days?
After all that, we talk about strong people: the strongest person we know (physically), as well as the most mentally and emotionally strong person we know. (Even all-around strength of da human supérieur!)
Find out if we consider ourselves to be strong, and hear how we'd hold up under interrogation, "enhanced" interrogation, and out-and-out torture.
In the homestretch, we chat about our greatest feats of strength in life, and close it all out with the most important kind of strength in today's society.
Feel free to flex your commenting muscles if you desire, and leave your thoughts about strength.
---
Thu, 28 January 2016
Men in Gorilla Suits Ep. 156: Last Seen…Finding Heroes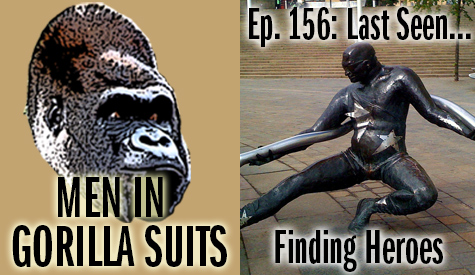 From a young age, we're conditioned to look at certain people and things in a larger-than-life way.
These are the people we hope to become. Some are driven to succeed because of the people they looked up to, while many more fall short of their dreams. Sometimes heroes themselves "fail us."
Is it even realistic for an adult to have a hero, or is it something that should be reserved for youth?
Heroes are the topic of this week's episode of Men in Gorilla Suits.
* * *
We begin by chatting about who our earliest heroes were, and then jump to whether or not parents or other relatives ever held hero status in our lives. After that, we talk about how important heroes were to us when we were younger -- and why that was.
We list off our heroes from childhood before discussing whether or not heroes are important to us today. Maybe we no longer have heroes -- just people we admire on some levels. We talk about that, and then move on to why the deaths of people we may have never met, but still admire, can affect us as though we were close to them. Also: find out if we'd ever want to be somebody's hero.
Sometimes heroes "fail us." We discuss why some people are stung when they see a flaw in someone they looked up to, and why some people will go to great lengths to defend the actions of a hero-done-wrong.
The "real life hero" (police, soldiers, firefighters, etc.) are often positioned as having more merit than imaginary heroes. We chat about why that might be, and wrap it all up with how our views of heroes has changed over the years...and how new generations will define what constitutes a hero.
If there's anybody you look up to (or even dislike who's liked by many), feel free to talk about it in the comments.
---
Wed, 20 January 2016
Men in Gorilla Suits Ep. 155: Last Seen…In High School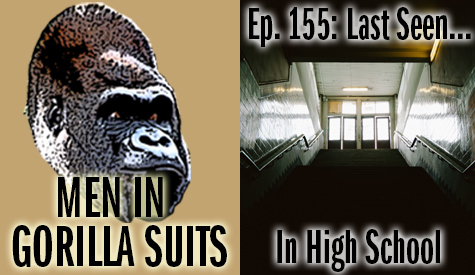 It's probably evident by the photo we used to represent high school that we weren't big fans of those four years. Still, they were not without their moments.
For some, they are the best days of their lives, while others could have easily done without them. Football games, parties, and fun; dodging bullies, isolation, and despair.
Being somewhere in the middle of it all, we decided to devote this episode to high school days...
* * *
We begin by sounding off: when did we graduate high school. After that, we talk about where we went to high school...and whether or not it was a good experience for us.
Find out if we agree with those who say high school is the best time of one's life as well as what we remember most about those years.
For many, extracurricular activities are what high school is all about. We discuss what we took part in -- and then chat about how many people from high school we're still in touch with.
High school is supposed to serve a purpose: preparing students for college. Was that the case for us? Did it even vaguely prepare us for the adult world?
As we often do, we hop into our imaginary time machines to go back to our high school selves. We have 30 seconds to offer advice about the time and life ahead. Find out what we would tell our younger selves.
Because we're old enough to have had high school reunions, we chat about if we attended any...or plan to in the future.
And we wrap it all up by discussing what we'd do to improve high school as it currently exists.
As always, we'd love to hear your thoughts about this week's topic in the comments if you are so inclined.
---