Wed, 29 January 2014
Men in Gorilla Suits Ep. 52: Last Seen…Finding Themselves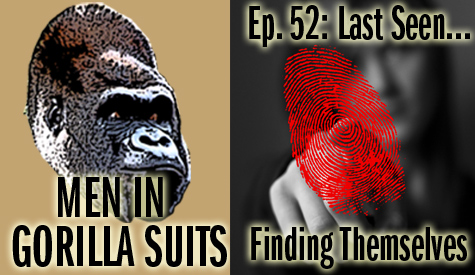 "Who are you?" seems like an easy question to answer, but it's often more difficult to sum up who you are quickly. Do you talk about where you were born and raised, or do you talk about work? Your hobbies, faith (or lack of faith), and other things that define you? Favorite foods, music, movies, and other things? We kick off this episode with this very question and discover that it's not so easy to sum up one's identity in an elevator speech.
Childhood undoubtedly plays a huge part of one's identity. We spend some time discussing the one experience from early in our lives -- more than any others -- that is responsible for who we are today. Next, we talk about other influences on who we are and what effect those influences have had on how we carry ourselves today...and how we interact with others.
Some people carry physical identifiers of who they are on their bodies. We talk about the tattoos we have, what they mean to us, and if we'd like to get more. From there, we ask if individuality is a western ideal -- a bigger thing in America than in other countries? History is full of countries that attempted to stifle individuality. Is there an advantage of a society that puts more stock in everyone together for everyone, or does it take a nation of individuals to make a nation work best?
Individuality is an ever-changing thing, even if one can be -- on some level -- the same good or bad person they've been since they are young. Even into adulthood, asking "What do you want to be when you grow up?" can bring what matters most to us to the surface. We ask each other what we still aspire to be. (It's a rare moment when something we say is something we believe should be what everyone aspires to be, but it's safe to say we both believe that Shawn's answer to this question should be everybody's answer.)
We wrap it all up asking each other is we turned out how we thought we would. Find out if we became the people our childhood selves thought we'd be...
As always, we'd love to hear your answers to any of the things discussed in this episode. Let's start with "Who are you...?"
---
Thu, 23 January 2014
Men in Gorilla Suits Ep. 51: Last Seen...Embracing Solitude
While this podcast is done as a team, most of the work the Gorilla Men do is done in solitude. This week, it's all about alone time!
We kick it all off asking is we were okay playing alone when we were young. After that, we discuss times (and the desire for times) spent alone. Obviously, not everybody is as okay with solitude as we are -- we ask if there's an inherent loneliness in solitude before discussing if there is freedom in time spent alone.
With technology, on some level, it's possible to always be connected. Social media, messaging, and other easy-to-use services can be great for those unable to venture into the world as easily as some, but there can also be a downside to always-on technology. We ask if there are benefits to disconnecting from an e-world -- before going on to talking about solitude's effect on creativity.
Solitude is not always voluntary: we spend some time discussing the negative effects of solitude. For those fortunate enough to be able to seek out solitude, they still often feel so overwhelmed by work, family, and tasks that they can't find time to themselves. In a time when leisure time seems to be waning for so many people, we ask if solitude is more important than ever. It's probably clear by now that the answer to that -- for us -- is that some degree of solitude is important. Then, Christopher asks what role solitude plays in subconscious thought, and Shawn asks if Christopher talks to himself when alone.
The general view of solitude is holing up alone in a room or cabin for a period of time, but we ask if solitude can be found with another person present...or even in a group. After that, we move on to talking about the biggest benefits of solitude before wrapping up with discussing how people can find solitude in a busy world.
We hope you'll share your views about solitude in the comments, but more than that: we hope this episode gives you some time alone in your head after listening...maybe even helping you claim some time to yourself!
---
Wed, 15 January 2014
Men in Gorilla Suits Ep. 50: Last Seen…Being Intelligent
The 50th podcast. That's fun to type. We're closing in on a year at Men in Gorilla Suits...and that matters to us. Not that anything comes with hitting the 50th weekly show without fail, or even crossing the one-year mark on February 6. (The first show went up Thursday, February 7.) What matters is no matter what, we've put out a weekly show longer than many podcasts last.
Whether slammed with overtime at work, sick, busy with other things, or just wanting blocks of time off where we do nothing, we've proven our motto -- that it really is as simple as chilling the fuck out...and making the damn thing!
The damn thing we've made for you this week is a podcast about...intelligence!
We start off defining what we see as intelligence, before discussing our own battle stories with IQ tests (and the results that followed taking the tests). After that, we ask the question: do we all start from different, measurable levels of intelligence? Without IQ tests, are there ways to measure intelligence?
Obviously, it's rarely a simple thing, and we address that as we talk about different kinds of intelligence (book-smarts vs. street-smarts; survival mode vs. contemporary life). Some other questions:
Does the intelligence of someone in a city scale if they find themselves lost in a jungle?
Is the mechanic working on your car more intelligent than a college professor?
Can one become more or less intelligent, or is it pretty much the same throughout one's life?
Is learning or education different from intelligence?
Then it's genius time. Were Mozart and others like him a genius? How do average people stack up to those historically deemed geniuses? Is there even such a thing as genius, or is it all hype or adoration? Flipping genius on its head, does stupidity exist -- and if it does, is it measurable? Are some people just more intelligent than others?
Finally, we wrap it all up by discussing the most intelligent person we each know (and, in the process, Gorilla Shawn settles a life-long family dispute)!
So put on your thinking caps and hit the comments to discuss your thoughts about...intelligence!
---
Wed, 8 January 2014
Men in Gorilla Suits Ep. 49: Last Seen…In a Routine
With one episode shy of our 50th show, and a handful of shows away from the one-year anniversary show on February 6, it's clear that creating the Men in Gorilla Suits podcast is now part of our routine. In fact, lately, we haven't recorded as often as usual because of the holidays -- this was the first show we did in weeks. Christopher flubs the opening (we kept it and didn't re-record), showing that falling out of routine can leave one a step off. Hell, Christopher felt off this entire show -- so much so that he set out to edit this episode the old way (routine), when we edited every pause and "uhm..." out of episodes. The good thing is, when you produce a weekly show, falling back into routines takes no time at all; Christopher's sleepy, out-it-it mode for the day had no effect on the episode, despite it feeling off for him. No editing was needed, and he was happy to hear that the show ended up better than he hoped.
But enough babbling...
We kick off this episode talking about the first routines we remember having. From there, we talk about how we form routines and habits, before discussing how important routine is in our lives. While it will become clear early on that we are not the biggest fans of routines -- going so far that we reject many routines others try to put on us -- we take a moment to discuss the importance of routines in completing the things that matter most to us. (Spoiler alert: it's pretty much, "The podcast is our biggest routine, and we really do abide by our motto of Chill the Fuck Out...and Make the Damn Thing!")
Sometimes the routines in life change. We talk about routines that have fallen to the side that we'd like to bring back into our lives...and we talk about routines we're glad are no longer part of our lives. Even for people like us, who reject most routines, one cannot have at least some routines in their lives. We take a bit of time to discuss where in our lives we see the most routine, and go as far as mentioning some routines that aren't a part of our lives that we'd like to invite in.
Writers and other people making creative things are known for strange routines (certain things on the desk, rituals before beginning their thing, and so many other quirks). We talk about if we have writing routines and, if so, what they are. Then it's on to talking about people who have routines that we've admired, before mentioning our own longest-standing routines.
Finally, we close with a quote by Amos Bronson Alcott, who said:
"The less routine, the more life."
Find out if we'd be okay living lives with no routines, and...let us know your own thoughts about routines (or routines, rituals, and habits you have), in the comments.
---
Wed, 1 January 2014
Men in Gorilla Suits Ep. 48: Last Seen…Being Bad Guys
Whether factual or fictional, the real-life and made-up world is not without its share of bad guys. We begin the show discussing who the ultimate bad guy was to us when we were young. Sticking to the past, we move on to who the socially acceptable bad guy was when we were in elementary school -- before discussing current-day socially acceptable bad guys.
We get a bit deeper when we talk about why the United States always seems to need someone to label "the enemy"; then it's back to popular culture and asking, "What's the most laughable villain portrayal you've ever seen in a movie?" Sticking with movies, it's then on to who plays the best bad guys and who we believe to be the best bad guy from fiction.
Topping many people's lists of top bad guy from history would be Hitler. We toss Hitler out of the equation and ask each other who we deem the top baddie from history. After that, we discuss our arch-nemeses, and then move on to who the bad guy would be in a fictionalized version of our lives (and who would play us, as well).
We close it all out with our top 5 portrayals of bad guys and then listing the roster for our hand-picked bad-guy super team!
As always, we'd love to hear all about who you deem bad guys in the comments.
---
Thu, 26 December 2013
Men in Gorilla Suits Ep. 47: Last Seen…Getting Educated
Is an education what many believe it to be -- formal schooling -- or is it something more? It seems like something more as we begin this episode talking about our first memories of education...it didn't start with school. But, obviously, one cannot discuss education without [mostly] talking about school. After our early memories of being educated about something, we move on to this question: "Did you have any teachers that inspired and changed your life like you see in movies?"
Maybe we did; maybe we didn't...you'll have to listen to find out, but we definitely had teachers who soured us on schooling. So often, teachers are held up in high regard, but is it justified when so many teachers aren't all that great? (Not saying for a moment that a good teacher should be lumped in with the actions of poor teachers, but so often you hear things like, "Teachers should be paid more than athletes," and, truth be told...there are a lot of shitty teachers out there who probably don't deserve what they are already paid!)
After that, it's on to standardized testing and the money that's tied to it. Is standardized testing good or bad? Is one who tests well "educated" -- is it possible to solve problems and be smart and not test well? (You can probably guess where we stand!) Does more money solve problems in districts, or are there bigger problems with education that money alone can't solve? Hell, why not just ask if the public school model is outdated altogether?
We take a different track and ask how we'd see our own children educated before stepping into home schooling/unschooling. Is homeschooling and unschooling bad? What about the arguments about socialization: is a school a good place for socialization, or can it be like Lord of the Flies for many, destroying the confidence of so many kids who would otherwise be social in other environments?
While most of this episode focuses on primary and secondary education, it's off to college...but is college worth it? Does a traditional education and college prepare younger people for adulthood and the real world, or is it more about discipline and then wondering why the person who previously had to ask for permission to use the restroom isn't suddenly the problem-solving adult they are expected to be after graduating high school?
Breaking from tradition, we move on to other interesting ways of educating people. After that, we build a time machine and go back with the ability to shape our own educations -- find out what we would have changed and how we'd have preferred to have been educated. And, as always, we wrap it all up by discussing the future...this time, what the future of education might be like...
If you're stuck in detention and looking for something to do, tell us some of your thoughts and feelings about education in the comments.
---
Thu, 19 December 2013
Men in Gorilla Suits Ep. 46: Last Seen…Studying Science
MWAH-HA-HA-HA-HA!!! This week, we're all about...SCIENCE!!! (Imagine a flash of lightning instead of exclamation points and it's soooooooo much better!) But really, that's kind of the Hollywood/Frankenstein version of science. We're a bit more grounded than that...although we DO love a good mad scientist movie...
We begin as we always do: discussing our first memories of the topic; in this case, our first memories of science. We obviously wouldn't talk about science if we didn't find science fascinating, so after that, we move on to the first field of science we ever loved. Also, find out if we were good students in science classes in school.
But enough about the past: find out what we feel are the most fascinating scientific developments right now! Then we roll into the weirdest science experiments we've heard about...and the most horrific! Some people think most science has the potential for harm...who should decide the limits of what we do with science: scientists, government, or something else? Or...should anyone have a say?
Next, find out what we feel are the most ridiculous assertions backed by "science," and listen to why we feel so many people put stock in pseudoscience. It all wraps up with where we see science going in the future.
So put on the lab coats and headphones and then head to the comments to talk about one of the best things ever: science!
---
Mon, 16 December 2013
Men in Gorilla Suits Ep. 45b: Last Seen…Eatin' Candy!
Regular listeners know we always put a snippet of our pre-show babble at the very end of each episode. We decided it would be fun to give your ears a peek behind the scenes and let a longer-than-usual babble-fest loose on the world. No editing, just straight-up pre-show talk.
So...what do we cover in 10 minutes?
Hear us choose our pens!
Listen to us eat candy!
Find out what the hell Muddy the Mudcat is!
Revisit the Fear podcast as we talk about being afraid of the Dr. Who theme as children!
Find out why Disney's The Black Hole made Shawn almost give up a love of science!
Listen to Chris talk about the most terrifying robot ever!
Learn all about how Shawn used to view "downtown" in any city!
Is downtown Dallas really like the lonely scenes from 28 Days Later?!
Is downtown Cleveland really just hobos and prostitutes?!
Finally, find out how long we'd last in a Fight Club...and what our downfall would be!
Can we use more exclamation points?!
Yes, we sure can!!!!!!!!!!!!
---
Wed, 11 December 2013
Men in Gorilla Suits Ep. 45: Last Seen…Collaborating
We kick it off talking about our earliest memories of collaborating, before jumping right in and answering the big question: Do we like collaborating with others? Find out our best experiences working with others...and the worst!
It's hard not to talk about collaboration and not talk about work. How much do our jobs rely on collaborating with others? How do you work with that person who refuses to work well with others? Should employers even encourage collaboration; if so, how can they best get people to work together well? Does any one person (or group of people) have the upper hand when collaborating?
Find out if we prefer leading groups of simply being part of groups when we have to collaborate on a project. Can people collaborate and still have their own voice be heard? And, finally: what's the best collaborative effort seen in history?
Feel free to collaborate by sharing your thoughts about collaborating in the comments.
---
Wed, 4 December 2013
Men in Gorilla Suits Ep. 44: Last Seen…Watching Television
Ever watch TV? Bet you have. Man, do we have a podcast for you this week -- one of those, "I can't believe we haven't done this one, yet!" shows. This week, we're talking about that great American pass time: television!
We kick it off talking about the first TV show we remember watching, before jumping to how important TV was to us when we were young. How does TV from the past (we focused on 80s TV) compare to things today?
Somewhere along the way, the mini series became a popular thing. We discuss the first mini series programming we remember watching before moving to our all-time favorite mini series. Probably because the mini series at least shot for something more, we jump to talking about the shows that seemed to be forerunners to the more intricate story arcs, characterization, and chances taken with TV today. Also: the most out-of-the-box TV shows we've ever seen.
With the rise of cable, viewers (and creators) have more channels to choose from. Is this better or worse for creators? What TV shows do we feel have had strong writing? And you know you want to find out the most embarrassing shows we'll admit to liking!
In the homestretch, we ask how relevant TV is to today's culture...before calling out the best TV shows of all time (and the worst). We wrap it all up with this question: What is the future of television?
So grab that remote and flip to Men in Gorilla Suits. As always, we'd love to hear your feelings about anything discussed in the comments.
* * *
(Wow, we succeeded going this entire description without saying boob tube! Huhuhuhuhuhuhuhuh...)
---