Thu, 15 March 2018
Last Seen...Changing Lives! MiGS Ep. 148 (Classic)
I believe it was the great philosopher James Van Der Beek who once said "I don't want yur laafe." What James was really looking for was something that would change his own life, rather than blindly following the path that was laid out for him in that one-horse football town where he hacked a computer and started a countdown to nuclear war.
So I might have fallen asleep when that movie was on and woken up during Wargames. Which, you know, is a pretty good movie too.
This podcast is about the 1983 film Wargames, or possibly the 1999 film Varsity Blues. It's actually about neither of those, but it's worth a listen nonetheless.
I guess. Now I just wanna go watch Wargames. They should remake that with Van Der Beek in the Dabney Coleman part. That'd be sweet.
---
Thu, 8 March 2018
Last Seen…Talking about Fast Food – MiGS Ep. 239
Another rough day at work. You drove in with the faint blur of the sunrise on the eastern horizon, and now you're heading home and looking at the sun going down in the west. You're tired and you don't feel like cooking. So you pull into the line...
From a speaker at the bottom of a big menu sitting outside in the cold: "Welcome to Taco-Taco; how may I help you?"
The next night: "Welcome to Burger-Burger; how may I help you?"
And later that week: "Welcome to Chicken-Chicken; how may I help you?"
Over the weekend, you stop in to a fast food place serving deli food in an attempt to eat a bit more healthy.
This is life for many...
It's convenient, fast, and sometimes still hot by the time you get home: fast food. It still fuels America and excites kids.
So...this week, the Gorillamen talk all about...fast food!
* * *
We begin with the first fast food we remember eating, and then cover our favorite fast food...and the last fast food we ate. After that, find out if we ever worked in fast food (and where).
Speaking of working in fast food, we chat for a bit about if fast food workers deserve $15 an hour...and if working in fast food is an American rite of passage.
We talk about our grossest fast food experiences and move on to regional or defunct fast food restaurants we miss.
We sing high praises to Whataburger and Taco Bueno, devoting further time to what makes them so damn good!
We chat about the most upscale fast foods we've had before chatting about whether or not food trucks have redefined the fast food industry.
And we wrap it all up with the future of fast food.
---
Thu, 1 March 2018
Last Seen...Being Manly! MiGS Ep. 177 (Classic)
See ya, motorscooters. I'm off to get a job with a drill.
I say in the intro to this one that I don't really have a reason I picked this particular episode, but that might not be entirely true. Subconsciously, I might have been thinking about the disease of toxic masculinity, and the fake manhood that some people wear to pretend they're bigger, braver, and stronger than they are (unless we all believe Tiny Hands would have REALLY charged into a school shooting unarmed, which we do not).
Manliness and masculinity can be useful, but they can also be horrible. And so of course, we talked about it that one time a year and a half ago.
Enjoy!
---
Wed, 21 February 2018
Last Seen…Talking about Income Inequality – MiGS Ep. 238
Yes, it's time once again for one of those "serious" episodes of Men in Gorilla Suits.
Polish your monocle and tell your butler to bring you a 25-year-old fine scotch...this time around, the subject is income inequality...
* * *
We begin with what seems like a question with an obvious answer, but for some people...well, it isn't: Do you think there's a problem with income inequality in this country? After that we chat about income classes we've lived in during our lives...as well as where our spouses have been. Then we devote some time to differing financial views we may have had with early roommates or our spouses in the past.
Find out what social class we sit in now...and what we think has caused the shrinking of the middle class. Along those lines, we ponder if people in different classes can truly understand the lives of those in other classes.
Fast food workers: do they deserve $15/hour? We talk about that...and then move on to whether we should try invigorating the middle class...or if the middle class is even necessary...
Near the end, we talk about Millennials: have they gotten the shaft economy-wise?
And we wrap it all up with a not-so-simple question: How do we fix income inequality.
---
Thu, 15 February 2018
Last Seen...Combining Minisodes! MiGS Ep. 237b
And sometimes, you go to a store and they give you leftovers.
But sometimes, some of those leftovers are clips of audio you hadn't heard before and I really didn't think out this metaphor and I'm going to back out, thank you!
In an effort to prove that yes, we really do talk like this even when we're not podcasting, we originally released two mini episodes: one on candy and one on Star Trek (again). In our most recent recording, Christopher captured another minisode, which has now been packaged with the other two for your listening pleasure (question mark?).
Enjoy!
---
Wed, 7 February 2018
Last Seen…Talking about Marijuana – MiGS Ep. 237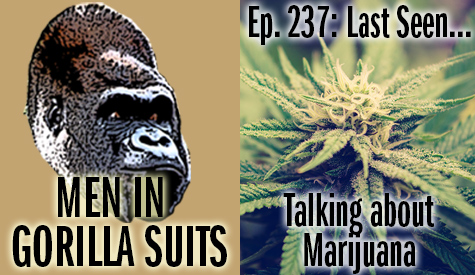 First: Today marks exactly five years since we loaded the first episode of Men in Gorilla Suits.
Now, on to this week's episode...
* * *
Duuuuuuuuuuuuuuuuuuuuuuuuuuuude...
Duuuuuuuuuuuuuuuuuuuuuuuuuuuuuuuuuuuuuuuuuuuuuuuuude...
Duuuuuu-- Duuuuuuuuuuuude, is that pizza?
This week, we're talking about marijuana.
(And just because Christopher mentions the tune, there's this:)
* * *
We kick off this week's episode talking about when we first became aware of marijuana. After that, we discuss if we've ever gotten high, the last time we got high, and our experiences with weed.
Find out if either of us ever sold marijuana, a then listen to us talk about if we're for legalization (and why...or why not). We discuss medical marijuana and miraculous claims about the plant. We also devote a little time to people we know who have changed their views about marijuana over the years.
Weed has reputed claims of making creative people even more creative. We talk about that and if we've ever used marijuana in a creative manner. As we near the end of this episode, we discuss our favorite pop culture references to marijuana...and we wrap it all up with the future of weed.
---
Thu, 1 February 2018
Last Seen...Playing Role Playing Games! MiGS Episode 138 (Classic)
Shawn rolled 1D20 for charisma.
He got a zero. Somehow.
Christopher 1D20 rolled for INT.
He got a 19.
Life ain't fair, motherfuckers. And neither are roleplaying games. But we take a(nother) look at them in this week's episode! Marvel at both gorillamen's awkward teen (and adult) years! Listen to the power rankings of the best and worst RPGs of all time! Stay up all night and play some damn games!
Oh, to quote Shawn, "HEY MR. PUBILLONES I'M JUST MAKIN' SOME COFFEE CUZ I DON'T WANT MY MAGE TO GET KILLED!"
---
Wed, 24 January 2018
Last Seen…Talking about Healthcare – MiGS Ep. 236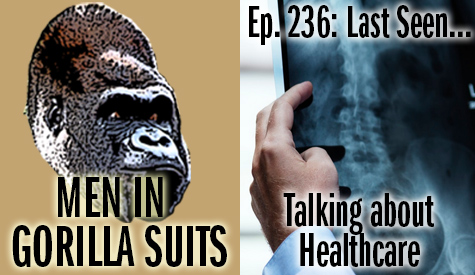 We're trying to think of something funny to say about healthcare in the United States, but it's really a situation of being so sad one can cry. Even those with coverage and savings are one serious incident away from bankruptcy. Just thinking about it can be unhealthy.
Still, somewhere along the way in this week's episode, we did crack a joke or two.
If you have been through it, prepare to nod your head and say, "Yup...been there..." And if you're from one of the Western countries that provides a better semblance of healthcare (or fortunate to come from a country that provides great healthcare), prepare to be horrified...
* * *
We begin in a time we were wee laddies first going to the hospital. Find out why...and also find out if we had healthcare throughout the entirety of tax year 2017.
After that, we talk about working in healthcare...and if we'd ever do it again. Then it's on to our worst -- and best -- experiences with the U.S. healthcare industry.
We devote some time to how we'd like to see the U.S. healthcare system change, and get a bit philosophical about if we think people have a right to healthcare. Along those lines, we chat about if healthcare should be completely free, and who has the best -- and worst -- healthcare systems on the planet.
And we wrap it all up by chatting about the future of healthcare in America...and the world.
---
Thu, 18 January 2018
Last Seen...Being Apathetic! MiGS Ep. 108 (Classic)
Meh. Whatever, bro.
It's a classic episode, or something. About... I didn't bother to listen to it. It's about something. I assume.
So, like, enjoy it. Or don't. I'm not the boss of you.
---
Tue, 9 January 2018
Last Seen...Talking about Ghosts – MiGS Ep. 235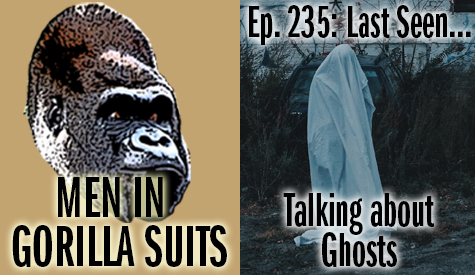 BooooOOOOOOoOooOooOOOOoooooOOooooooo...
G-g-g-ghoooOOOooOOooOOOoOOOOOoooooosts...
SpooOOOOooOOOOOOOOOOoooOOOOOOoooky...
We have cereal named after ghosts. Some of our biggest movies are about ghosts. As a species, we're obsessed with ghosts.
So this week, we strap on our proton packs and go a-ghost huntin'!
* * *
Right away, we establish if we believe in ghosts...or think they're bullshit. After that, we chat about people close to us who believe in ghosts...and if we've ever had strange experiences that made us question if ghosts are real.
We talk about why some people believe in ghosts, and then leap to our favorite ghost stories. Sticking to the thought of ghosts as entertainment, we discuss our thoughts about ghost hunting TV shows.
Ghosts work in certain ways according to legends. We devote a bit of time to the weird aspects of the popular mechanics of how ghosts haunt shit on up, and then we talk about some of the shittiest people on the planet: mediums who claim to channel the spirits of the deceased.
Ever lied awake at night wondering, "I wonder if the Gorillamen have ever used Ouija boards?" Well, finally, you will get your answer!
After all that, we talk about what we'd be like if we died and got to come back as ghosts.
And we wrap it all up with this question: Do you think people will always believe in ghosts?
Feel free to haunt the comments with your thoughts about this week's episode...
---