Wed, 8 August 2018
Last Seen…Being Cruel – MiGS 250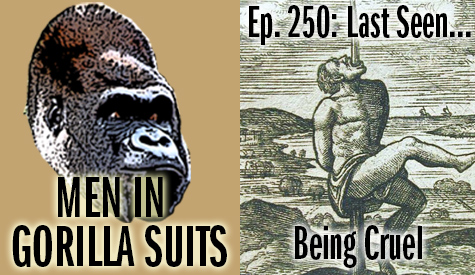 In honor of our 250th episode of Men in Gorilla Suits, we get happy...and talk about cruelty.
Of course, we try making the show fun -- and it's still a bit lighthearted for such a potentially dark topic -- but much of the humor comes from acknowledging what a dark subject it is this time around.
But hey, you get to find out the cruelest things the Gorillamen have done to other people, and we do address ways of dealing with and preventing cruelty. So there's that...
Obviously, this episode also gets a bit political...'cause, ya know...separating kids from their parents and not reuniting them is cruel.
You've been warned...
* * *
We kick it all off with the first time somebody did something cruel to us. Then we move on to whether or not we've ever done anything cruel to someone else...and why. (Please don't fear us!)
After all that, we chat about the cruelest things we've seen lately, and answer this question: is cruelty on the rise?
We talk about the Internet's role in modern cruelty -- and if cruelty and stupidity are linked.
We get a little more chipper when talking about the least cruel people we know, so there's that. And then we discuss why cruelty is more heinous than ordinary meanness.
And we wrap it all up with these two questions:
Is cruelty damaging us?
How do we fight cruelty?
But seriously, as dismal as the topic for our 250th episode is, it still has some very funny moments. Also, as we hit a fairly big milestone with this episode, if all you've ever listened to is this episode and are then like, "Fuck those gorilla guys -- they suck!" thank you for your time. Many podcasts never see episode 25, so we appreciate anyone who's listened to any of our 250 episodes...
---