Wed, 4 May 2016
Men in Gorilla Suits Ep. 170: Last Seen…Scheduling Things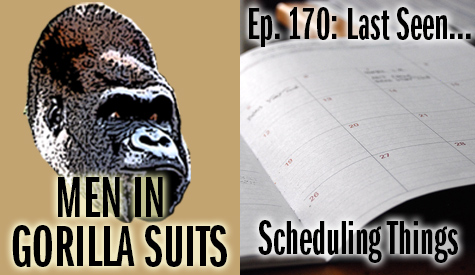 Nothing happens to us if we don't get this show out weekly, but we told ourselves from the start that we would get episodes online by Thursday of every week. 170 episodes in, we've never missed a deadline; in fact, it's not uncommon to post episodes early.
We usually record episodes on Sundays. If recording in person, it's an 11:00 a.m. start time. If we don't meet in person, it's 9:00 p.m. Sunday night on Skype.
While one could argues these are deadlines more than schedules, we both schedule things to various degrees (erring quite heavily toward the side of no real schedules -- just hitting deadlines and remembering the bodies of work we have created to drive us to create even more). Others schedule things down to the seconds (which helps if, say...you're launching a rocket into space -- but it's probably not necessary for daily life).
This week we are on schedule and...talking all about schedules.
* * *
We kick off this week's show talking about the first schedules we remember. Oh, wait...Christopher had his runsheet out of order, so we really begin in the middle, talking about whether or not we prefer schedule things by time or by necessity to complete the thing. After that, we leap to how important schedules are to completing our creative endeavors -- and how important schedules are in our lives.
We devote some time to discussing how we schedule things in our lives (if we use any apps, planners, or other things), and what kinds of schedules work best for us.
Many people swear by books like Getting Things Done and productivity blogs. Find out if any of those things have ever helped us with scheduling; then we chat about whether or not people can go too overboard with their schedules. And sticking to that topic, we talk about whether or not people generally give their kids too much to do.
We've all had to deal with someone not only heavily into scheduling, but also wanting others to follow their methods for scheduling things. We discuss how we deal with those people, and then move on to some commonly scheduled things that could use a revamp. (Okay, so we mostly hammer on the 40-hour work week.)
Finally, we wrap it all up by talking about what advice we'd give people where scheduling is involved.
And right on schedule...we ask that you leave a comment if you are so inclined to discuss this topic further.
---