Wed, 3 February 2016
Men in Gorilla Suits Ep. 157: Last Seen…Being Strong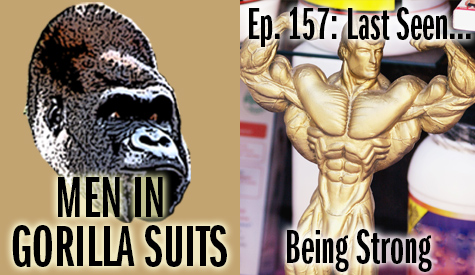 When thinking about strength, most people seem to think about physical strength. We've all seen circus strongmen, female body builders, and even wiry-looking people who can seemingly dead-lift a Yugo.
But strength goes well beyond just physical strength. We've all heard tales of people lost in extreme conditions who only survived because they were mentally strong. Emotional strength is craved as much as physical strength by others.
This weak is all about strength! (<------ See what we did, there? "Weak." That's some STRONG comedy right there. Or maybe lack of sleep...)
* * *
We begin with the first time we ever looked at someone and thought, "Damn, they're strong!" Find out if it was physical, emotional, or mental strength we first witnessed. Then we talk about what comes to mind when someone mentions strength. Next, we discuss what we feel is the most important kind of strength: physical, mental, or emotional. (And we even define what the difference between mental and emotional strength is to us.) Also: Is physical strength even relevant these days?
After all that, we talk about strong people: the strongest person we know (physically), as well as the most mentally and emotionally strong person we know. (Even all-around strength of da human supérieur!)
Find out if we consider ourselves to be strong, and hear how we'd hold up under interrogation, "enhanced" interrogation, and out-and-out torture.
In the homestretch, we chat about our greatest feats of strength in life, and close it all out with the most important kind of strength in today's society.
Feel free to flex your commenting muscles if you desire, and leave your thoughts about strength.
---