Wed, 9 August 2017
Men in Gorilla Suits Ep. 224: Last Seen…Talking about Real Estate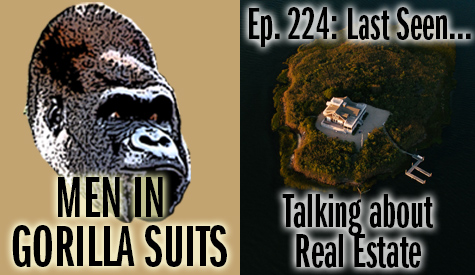 The American Dream has always been tied very closely to housing. The small house in the suburbs is what we were sold, even though -- for many -- it might be owning an apartment in a large city or off the grid in the middle of nowhere. The dream of owning a home has been exploited, leading to financial crisis -- but it's also been an indicator of financial health when all is well.
Entire networks dedicated to house hunting and restoration have popped up on television, and books and magazines (and websites and independent video channels) ensure we can consume our love for real estate any time we want. So it only made sense that we finally talked about buying houses! (Well, that -- and Shawn closed on a house yesterday...and that's been on his mind for more than the last month!)
* * *
We begin with the first time it hit us that people bought houses. After that, we talk about how old our parents were when they first purchased a house. We also chat about whether or not we've ever set out to purchase a home...and share odd stories about our hunts.
We discuss what made us want to buy a house and -- in the case of Christopher -- why he passed on one years ago. Next, we devote some time to what surprised us about the house-hunting/house-buying process...as well as the most annoying aspects of looking for a home.
We pause to describe our ideal dream houses -- and then jump to whether or not we think home ownership is on the decline (and if so, if it's the fault of Millennials...because if headlines tell us nothing else, it's that this may be the last podcast you listen to before nuclear war with Korea...and that Millennials kill all the things!)
And, as always, we wrap it all up with a look toward the future, this time speculating about what the coming years hold for home ownership.
---