Wed, 14 June 2017
Men in Gorilla Suits Ep. 220: Last Seen…Talking about Metal Music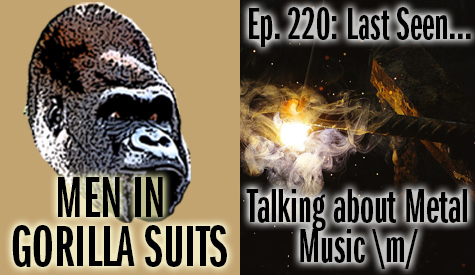 For the past couple years, Gorillaman Shawn has done another show -- a weekly look at metal bands and their influences called Metal DNA. While Christopher doesn't listen to much music these days, he was once rumored to rock out to Twisted Sister opening for Iron Maiden on Maiden's Powerslave tour in the mid-ish 80s. So it's a bit surprising that it took 220 episodes to talk about METAL!!!
And, because it must be shared whenever metal is mentioned, there's this:
* * *
We kick it off with the first metal songs we ever heard...as well as how we heard the tune (i.e. who got us into metal). After that, we talk about the best -- and worst -- genres and eras of metal for us.
We devote a bit of time to our all-time favorite metal bands, and then we jump into our fave metal tunes of all time.
Metal fans are a dedicated breed of all kinds of people, but there's definitely a stereotype for metalheads. Do they live up to that stereotype? We chat about that before discussing some metal shows we've seen live. (As well as a story about Christopher's one and only sad blind date.)
We like talking about time machines on Men in Gorilla Suits. Find out what metal concert we'd see if we could go back in time. And in the present, we talk about the most recent metal we've heard.
As [almost] always, we wrap up this episode with a look to the future, discussing what the coming years look like for metal and its fans.
Feel free to rock out in the comments if that's your kinda thing \m/
---