Wed, 18 January 2017
Men in Gorilla Suits Ep. 207: Last Seen…Talking about Architecture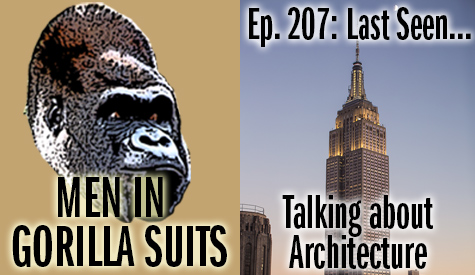 In honor of talking about architecture this week, we share with you the framework this episode was built upon:
When did you realize there was this thing called architecture?
What is your favorite thing about architecture?
Your least favorite?
Do you have a favorite architectural period? When?
What are some of you favorite architectural works (or even architects)?
Neither of us live in architectural masterpieces, but...there are cool things about where we live. What are some of your favorite architectural aspects of your home and neighborhood?
If money and location were no issue, what would your dream home look like?
Does architecture matter? i.e. Why make something visually appealing vs. simple boxes?
Has the architecture of a place of employment ever affected the way you looked at work?
Places like Dubai are known for its architecture. But can such grand places be sustained for decades to come?
Amazon filed a patent for floating distribution centers. How do you think advances in technology will affect architecture in the near future?
What is the future of architecture?
---