Sun, 8 January 2017
Men in Gorilla Suits Ep. 206: Last Seen…Talking about Winter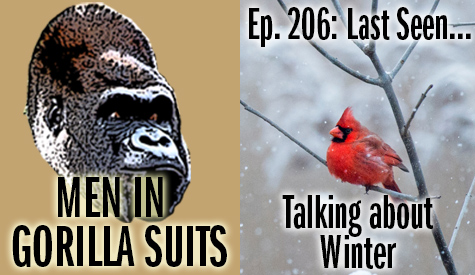 Friday, it even snowed in Texas. (It was enough that many blow-hards who ignored recent days in the low to mid 80s are saying, "Haw haw haw, to much for climate change!")
Much of the nation, all the way down to Florida, is in the grip of cold and snow and ice.
It seemed like a good time to talk about winter.
* * *
We kick this week off talking about the first winters we remember, and then leap to where winter ranks for us compared to other seasons. After that, we talk about the worst -- and best -- winters we remember. Sticking to best and worst, we also share our favorite winter memory...as well as a winter horror story.
Find out the coldest winter weather we've ever experienced...and what we like most -- and least -- about winter.
We discuss how winters have changed for us since childhood before chatting about some of our favorite winter activities...and the winter activities we aren't so fond of.
And we wrap it all up with why we love (or hate) winter.
You're probably cold and maybe even snowed in; it's a good time to leave a comment below...
---