Fri, 23 December 2016
Men in Gorilla Suits Ep. 203: Last Seen…Talking about Speculative Fiction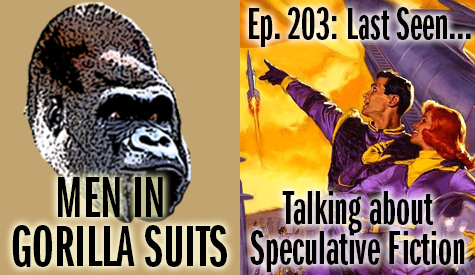 In the year 2000, flying cars will take us to work and robots will babysit our children and walk our dogs. We will vacation on the moon and Mars; all our needs will be taken care of. Our only fear is an attack from Galagaxian-7...or maybe a portal opening from a fantasy realm and dragons loose in the streets. Lines blur between Macondo, City of Mirrors and our world; somewhere in northern Wisconsin, an English bulldog controls the forces of gravity.
Speculative fiction is often viewed as the genre of pulps, but so many classics we're used to are speculative works -- even though we do not see them as such.
This week, we devote an episode to speculative fiction...
* * *
We begin by defining what speculative fiction is to us, and then talk about the first speculative work we fell in love with. After that, it's on to why people love speculative fiction so much...while others hate it.
Find out if we have ever written speculative fiction...and if we think there's room for speculating in literary novels (or if here are already speculative literary novels out there).
Next, we discuss the differences (or similarities) of speculative fiction and magical realism...and whether or not we should consider all fiction speculative fiction.
We run through some of our favorite works of speculative fiction before chatting about what speculative fiction does that other forms of fiction can't.
Finally, after devoting a bit of time to things we've not seen done with speculative fiction that we'd like to see, we speculate about what the future of speculative fiction looks like.
Feel free to speculate all you want in the comments below...
---