Thu, 15 December 2016
Men in Gorilla Suits Ep. 202: Last Seen…At the Mall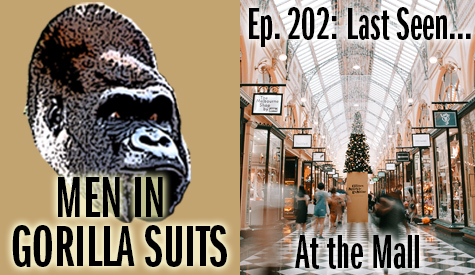 "Duuuuuuuuude! Where'd you get that gnarly shirt?"
"Chess King!"
"Excellent!"
"Where you headed?"
"Gonna get me an Orange Julius and then wander Spencer's Gifts..."
"Awesome. I'll catch up with you after I pick up the new Van Halen album at Camelot Music..."
This week, we're talking about malls!
* * *
We kick it off with our first trips to mall and our impression of the places as kids. After that, we talk about our main memories of 80s mall culture.
Find out if we were those kids who hung out at the mall (spoiler: we were!) and which malls we considered our home bases for rampant consumerism.
We chat about the best places to hang out in malls...as well as some of the more ridiculous mall stores we've encountered.
Malls come and go; in honor of that, we devote a little time to chatting about dying malls and what it's like to be inside an abandoned mall. After that, we talk about some of the reasons why malls shut down.
But there are places where malls are still a thing. We discuss why that is before moving on to out favorite malls ever.
If you listen to the show regularly, you know that Shawn volunteers quite a bit this time of year...and sometimes, his volunteering takes him to malls. We chat about how often we find ourselves in malls before wrapping it all up with the future of the shopping mall.
---