Tue, 29 November 2016
Men in Gorilla Suits Ep. 200: Last Seen…Turning 200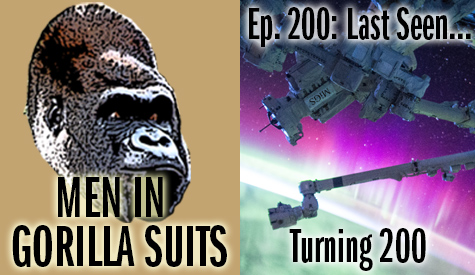 On February 7, 2013, two of the greatest [and humblest] minds mankind has ever known sat down in front of a Zoom H2n portable digital recorder and...talked.
About acting grown up.
It is the one event in history more impressive than putting an American flag on the moon.
Two hundred episodes later, the Men in Gorilla Suits are still going strong...
* * *
Instead of the usual single topic being the focus of the episode, we take a look back, seeing how our feelings have changed regarding older topics...
From Episode 3, we discuss how conspiracy theories have not only gone more mainstream than ever...but how they are, at least in part, responsible for the current President-Elect of the United States of America.
Then it's a step back to the first episode, in which we not only discuss how our perceptions about being adult geeks have changed...but whether or not we are happier with our adult lives.
Episode 89 found us chatting about patriotism, which ended up being largely about nationalism. We look back and see how much has changed in that regard in just two years. (Hell, even in the last two weeks!)
In episode 54, we talked about entitlement. Find out if we think it's a bigger (or smaller) problem than it used to be. (Really, we didn't mean for this episode to be largely about the 2016 US Presidential Election!)
We discussed podcasting in episode 105, and we do so again today by devoting a bit of time to how much podcasting has changed in the past couple years.
Episode 108 was [largely] a celebration of apathy. Find out if we've been able to continue practicing focused apathy to better our lives since recording the episode.
We devoted Episode 168 to motivation. We chat about whether or not our drive for things has changed much since then...and if we've seen others more or less motivated to do the things they want to do in life.
Episode 153 was all about being American (and what it means to be American). We talk about what that means to us -- and the world -- has changed recently.
What we didn't tell you is that this entire episode was recorded 200 years in the future. Which is convenient because we also like to talk about Star Trek. According to the Trek timeline, last year (2215) saw the Drema Quadrant mapped for the first time...and we're just years away from making first contact with the Klingon Empire. Find out how accurate Star Trek was in predicting the universe in which we now live, in 2216.
Also: we hate to break it to you all, but Earth is long gone. We wrap up Episode 200 discussing whether or not we're better off without that little rock and leaving the solar system in which we were born long behind us.
* * *
Last week was Thanksgiving in the United States. Whether you've listened to just part of one episode of Men in Gorilla Suits or allowed us to steal away roughly 235 hours of your life (almost 10 entire days!), thank you so much!
(We probably shouldn't have put it in that way...now that you know how much time you've lost listening to us babble, we'd fully understand if you never listened again...)
---