Wed, 16 November 2016
Men in Gorilla Suits Ep. 198: Last Seen…Being Disappointed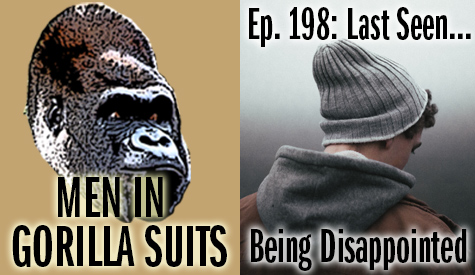 So...that election. You know, the one that said, "Hey, you might not claim to be a bigot or racist, but if you voted for the doughy orange one, you're at least okay with bigotry of sorts." At the very least, in the words of Hasan Minhaj:
You personally may not be a racist, sexist xenophobe, but that comes with the package. So if you take that deal, what you're telling me is, 'Hey, man, I don't hate you. I just don't care about you.'
Because the Gorillamen are disappointed that people voted -- at least in part -- for these things, disappointment seemed like a fitting topic this week.
# # #
We kick off the week's talk with the first time we remember being disappointed, and then jump to whether or not we were often disappointed as children...and even today, as adults.
Find out our biggest disappointments in life and the most recent thing to disappoint us.
After that, we talk about how we deal with disappointment -- and why some people seem to deal well with disappointment, while it destroys the lives of others.
We chat about how expectations and reality factor into disappointment before discussing whether or not we agree with quotes about disappointment like, "Disappointment just means something better is around the corner."
Is it possible to do everything right in one's approach to an endeavor and still see nothing come from it? We devote some time to that thought, and then talk about how often we're disappointed in other people.
And we wrap it all up with advice we'd give someone who is often disappointed.
Feel free to share any of your thoughts about this week's topic in the comments below.
---