Wed, 9 November 2016
Men in Gorilla Suits Ep. 197: Last Seen…Talking about Time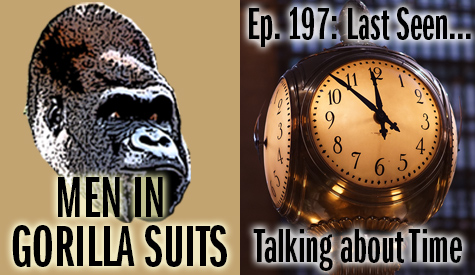 It's funny that this week's show is about time. Shawn's recently been busy, so we didn't record on our usual night. Then Christopher had an early day in the office on Tuesday, so Monday night recording was a no-go. Tuesday night in America was election night. (You might have heard a thing or two about that...)
So, it's funny that we're talking about time when this is the third week in a row with little commentary and Christopher just cutting and pasting our talking points for the episode below.
Tick...tock... Tick...tock...
# # #
When did you first become aware of the nature of time?
What's the weirdest time schism you've experienced?
When did/does time pass the slowest for you? The fastest?
Do you believe time is a thing that must be kept guarded, safe from waste?
Are you time-obsessed?
Do you believe humans can manipulate time?
Do you think time moves forward in a linear fashion?
As you get older, do you notice any changes in the passage of time?
What do you spend the most time doing, generally?
What would you like to spend more time doing?
What's the most annoying thing to you about time?
---