Thu, 22 September 2016
Men in Gorilla Suits Ep. 190: Last Seen…Traveling for Business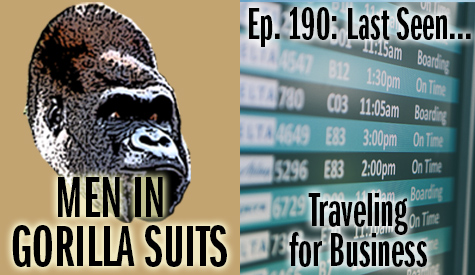 The Gorillamen have been on the road in the last month. Right now, so many people who live in one place are working in other places. Even with technology that brings us together, we still travel for business...a lot!

Some people hate it, while others not only like it -- they seem to live for it.
It's time to catch your flight and listen to this week's Men in Gorilla Suits episode all about...business travel!
* * *
We begin by talking about whether or not our parents traveled much with work...and then move on to our first business trips, including our longest time away from home for work.
Find out how much we travel for work today, including our most recent business trip.
Many people have trips lined up -- find out if we are those kinds of people.
Then we discuss if business trips are even necessary, given recent advances in technology that allow us to work with others remotely.
After that, we chat about our best -- and worst -- business trip memories.
There are people out there who live for business travel. We talk about why we think some people prefer business travel to being around home, and then chat about our favorite -- and least favorite -- things about traveling for work.
And we wrap it all up with a discussion about the future of business travel.
---