Wed, 31 August 2016
Men in Gorilla Suits Ep. 187: Last Seen…Talking about Murder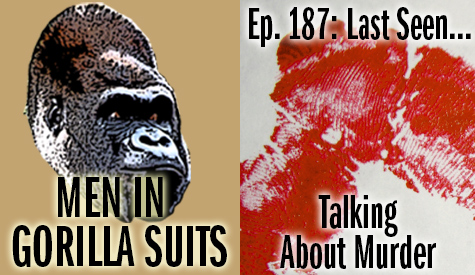 By the time you listen to this episode, somewhere in the United States one person will be murdered.
Not killed in an accident, and no suicide...straight up muthafuckin' murdered!
Someone taking the life of another!
We're fascinated by murder in America. We've raised Hannibal Lecter to hero status, and we will never be lacking in true crime television, movies, and books.
One-eight-seven is police code for murder, and what episode is this?
Keep an eye behind you and listen to us talk about murder for awhile, all the while remembering that statistically, a real person will be murdered somewhere in America before you're done...
* * *
Oh, sure...we're goofy up front and ask if either one of us have been murdered, but then Christopher ruins it all by asking Shawn if he knows anybody who's been murdered.
Find out if anyone has ever attempted to kill us and whether or not we were ever afraid we would be murdered.
Confession time: have we ever murdered anybody? Okay, so more realistically, find out if we ever thought about murdering someone.
After that, we discuss whether or not we are fascinated by murder. We keep that line of thought and talk about whether or not we think murder is a big part of America...and if the United States has more problems with murder than other parts of the world.
Then, finally, we get down to talking about the murders Americans seem to love: serial killers. Do we have a bigger problem with serial killers in America than other parts of the world? And what's the scariest murder we've ever heard of.
We devote some time to the unsolved murders that fascinate us most -- as well as our favorite TV or movie murder.
If you watch the news (or listen to a certain politician whose hair looks like it survived a gangland stabbing), you'd think the murder rate was skyrocketing. But it's not. We chat about what we've done right in reducing the number of murders in America...and then wrap it all up talking about the future of murder.
So grab a butcher knife and make a bloody wreck the comments...or just stop by and say hi.
---