Wed, 29 June 2016
Men in Gorilla Suits Ep. 178: Last Seen…Performing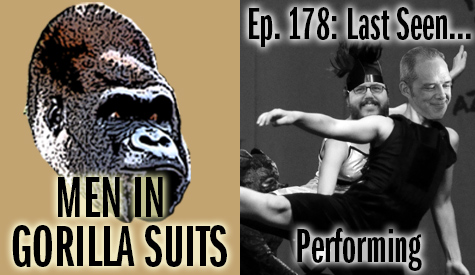 If we say, "What do you think of when you think about performers?" you probably think of an actor, musicians, or maybe even [God forbid] a clown or mime. But chances are you spent your day around performers: people holding back what they really want to say or that guy at work who honestly thinks his desperate attempts to suck up to managers isn't recognized as the corporate version of jazz hands that it is!
We all perform...whether it's looking out over the audience from a stage and overacting in the hope that your father will see in what you do the same thing you do, or saying to your kids, "This breakfast you made is yummy," when it tastes like Play-Doh and cat urine. (Hint: you probably just ate Play-Doh and cat urine.)
Performing of all sorts is the topic this week, so step into the spotlight and claim your 15 minutes!
* * *
We kick it off talking about the first performance we remember actually impressing us, and then talk about performing before others we've done.
Find out if we believe live performances are better than other kinds of performances -- as well as the worst performances we've ever seen. After that, we chat about the last thing we did that we consider performing.
Enough theater and movies -- we jump to talking about work...specifically, what role performing plays when we're at our day jobs. From there, we move on to the role performing plays on social media.
While it's evident that many people take up performing as a desperate attempt at getting attention, are all performers inherently seeking acceptance and attention? And does performing (as entertainment or even at work) inherently mean one is being fake?
We list some of our favorite performers and then chat about how the Internet has changed performing in recent years.
We wrap it all up by talking about what the future holds for performing.
For an encore: wave those jazz hands loud and proud and leave an interpretive dance in the comments.
---