Wed, 22 June 2016
Men in Gorilla Suits Ep. 177: Last Seen…Being Manly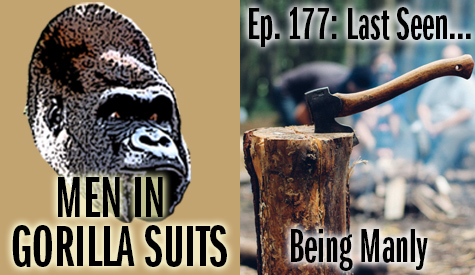 "I remember it as though it were yesterday: the first time I wiped my butt with a log. It was after I beat up 12 men in a drunken brawl and zipped off with a bunch of strippers in the old Pontiac GTO I restored with my bare hands. Did I ever tell you about that time I punched a moose so hard in the head that it went mad and destroyed a lumber camp? Those bark-skinned pussies didn't know what hit them! But it was out in those woods, living off the land, when a log was all I had at my disposal. You know what it's like when you eat nothing buy protein 'cause yer in the gym all day, pumpin' iron and getting all swole for your next big fight. You may as well be shitting steel girders! Or maybe you don't know, 'cause yer not a real man like me..."
What it is to be "manly" varies over the years and depends who you ask. Some would say there's not even a need for manliness in modern society. It's an interesting enough topic -- what it is to be "manly" -- that we decided to dedicate this week's episode to "manliness."
* * *
We kick it off by defining what manliness means to us -- and then talk about when the concept of "being a man" was introduced to us.
We chat about the most stereotypical manly things we've ever done...as well as the least manly things.
Most males are taught by their fathers what it is to be masculine. Find out if manliness was important to our fathers when we were kids...for themselves (and for us).
Also find out if we consider ourselves manly...and what someone wanting to be more manly would have to do to achieve our version of the concept.
After that, we discuss whether or not the concept of manliness is old fashioned...and if it should become obsolete.
We also talk about if traditionally defined manliness is useful...or if it's actually damaging.
And we wrap it all up with what it will mean in the future to be "manly."
So grit your teeth and let us know what you think about manliness in the comments.
---