Thu, 2 June 2016
Men in Gorilla Suits Ep. 174: Last Seen…In Trouble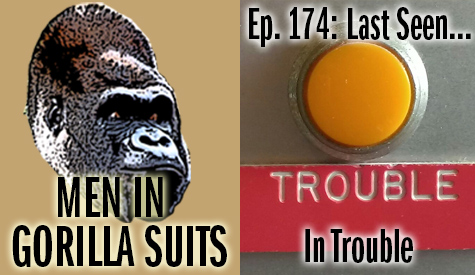 On Memorial Day, Christopher saw a couple cop cars behind a truck with a couple kayaks in the back. Christopher was going to buy beer, a substance that has led to more than a few fights in the drink's history. On the way back, the cops were searching the vehicle.
It's not right to stereotype people, but Christopher guessed that maybe they had a little marijuana on them...a substance that has not contributed to nearly as much violence over the years as alcohol.
And yet, the dudes with the kayaks were in trouble from the looks of things. (This point made very well with this video by The Streets)
Trouble is a strange concept to us, so we decided to devote an episode to it. We hope you like it, but if you don't -- worry not because...you're not in any trouble...
* * *
We begin by discussing the first trouble we remember getting into, and move quickly to the last bit of trouble that came our way (as well as the worst trouble we've ever been in).
Next, we get a bit more philosophical and ask if getting in trouble can ever serve a purpose. We also chat about the appeal of getting in trouble.
Find out the who the biggest troublemakers we've ever known are -- and what activity right now gets people in trouble that we don't think should be a big deal. (Hint: If legalized, we'd still not smoke it.)
We discuss whether or not rules and laws prevent trouble...and whether or not society deals with troublemakers well (or generally treat them terribly).
What is it about troublemakers some people are attracted to -- and at what point do troublemakers cross the line for us? Find out right before we end this week's show by asking if we think people will get into more or less trouble in the future.
You won't get in trouble for not leaving a comment, but we'll definitely be happy if you choose to share your thoughts about trouble or this episode.
---