Wed, 25 May 2016
Men in Gorilla Suits Ep. 173: Last Seen…In Pain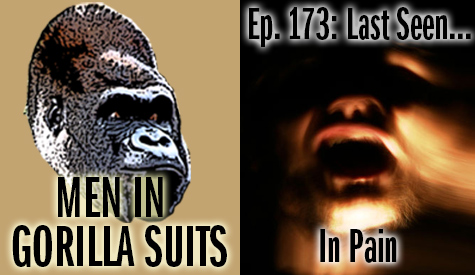 Bumping your head into cabinets or stubbing toes; chainsaw accidents and car wrecks; mauled by wild animals: All painful things.
But pain goes beyond physical injuries. Emotional pain can lead to physical pain.
Hell, many people believe life is pain.
Whether it's a chronic illness or feelings that cannot be shaken away, part of being human is experiencing pain. So that's the topic for this week's show.
* * *
We begin by talking about the first time we remember being in severe physical pain, and then get even happier by jumping to the first emotional pain we remember experiencing. Then we leap to the present day and discuss the last thing that caused us pain.
We're both getting older (this episode is being loaded the day before Christopher turns 47, and Shawn trails Christopher by 9 years), so we wondered: do we believe we experience more or less pain than most men our ages?
After that, we chat about the worst pain we've ever experienced -- as well as how we deal with pain and reduce its effect on us.
Some say that modern life is an attempt at the avoidance of pain. Find out if we believe there's any truth to that...and if we'd want to live a painless existence.
We wrap it all up by wondering if there is value in pain.
Leaving a comment doesn't hurt; if you are so inclined, have your say about pain!
---