Wed, 24 February 2016
Men in Gorilla Suits Ep. 160: Last Seen…Having Regrets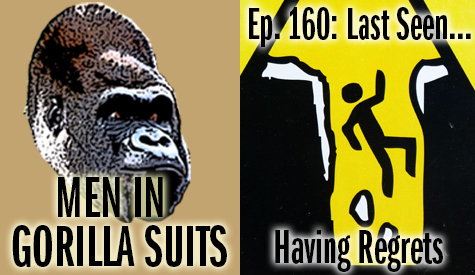 We'll get right to it: you want to know our greatest regrets -- the things we are most ashamed of -- it's all right here! (Okay, and Christopher, at Shawn's request, talks about the time he found his father in the basement doing surgery on himself.
Seriously!
Ralph Bertil Gronlund may have been a man wrought with regrets, but he did shit his own way...
* * *
We kick it off by talking all about the first time we became aware there was this thing in the world called regret. After that, we define regret...and chat about whether or not it's possible to live a life without regrets.
Want to know what we regret in life? We talk about that shit...and then we discuss people [not by name -- we're not assholes] we know who are torn apart with regrets to the point that life is hard for them. (And, sadly, a lot of people are like, "Get over it!" to them. Ah, were it that easy for those people...)
Sticking to that, we chat about why some people have a tougher time with regrets, while people like us are like, "Ah well, there was a time in the past when we were stupid...and even did horrible things..."
We step back to the "Get over it!" advice, talking about whether or not that's a realistic bit of advice when dealing with people who carry regret. (By now, it's probably clear that we are not heartless bastards and feel for those around us.)
We love technology on this show, so...we devote time to how technology affects people's regrets...as well as how simply being an American (and what we "stand for") can play into regrets.
If we had a time machine, find out the one thing we'd go back to in our own lives and change. But let's be honest: the present is where it's at. We talk about if there's anything we're doing right now that we might one day regret -- and what we can do today to prevent that from ever happening.
And while we were scheduled to talk about what advice we'd give to a person torn up by regrets, we had such a great time with this episode that Shawn thought Christopher was setting him up for our end catch phrase. But it's probably fair to say we'd each have said something like, "Get professional help, and realize we all make mistakes. Find a way to love yourself and see your good, no matter what terrible things you did in your past. They're probably not as bad as you imagine them to be." (Seriously, Christopher really did something shitty to a kid in his neighborhood, but the past is the past...)
And don't regret not sharing your greatest regrets in the comments.
---