Mon, 28 December 2015
Men in Gorilla Suits Ep. 152: Last Seen…On Vacation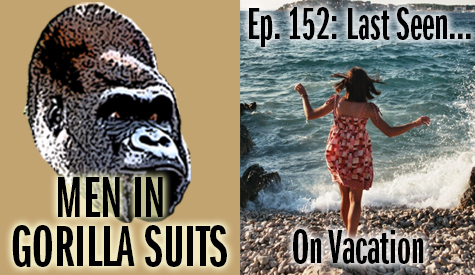 No, the title of this episode doesn't mean the Gorillamen have bolted into the trees to take a vacation hiatus from the podcast (although Christopher is taking his last vacation day of the year as this week's episode is being put together). With so many people taking time off at the end of the year, we decided to dedicate an episode to taking vacations.
* * *
We begin with our earliest memories of vacations and where we went (and what we did), and then we define what constitutes a vacation in our minds. After that, we discuss our best -- and worst -- vacations.
When people think "vacation," they often think of exotic locations that cost a bit of money for the trip. But can you take a vacation when you don't have much money?
We are connected more than ever, and that can mean an issue when announcing you are taking a vacation in certain areas. People you may know, there, want to see you, but all you want is to get away from it all and spend time alone, with your significant other, or your family. How do we deal with this situation? Find out!
Some people love taking vacations with family and friends, while others like keeping it to a significant other or immediate family. Find out if we like vacations with a group of friends and family, or just with our wives. Also find out where we like to go on vacation: beaches, exotic locations, cities, or the middle of nowhere.
Solo travel can be a wonderful thing. We chat about whether or not we've taken a vacation with nobody else...and then we talk about a growing issue with vacation: being constantly connected. With it being the end of the year, many workaholics are using up the vacation time they didn't take during the year. We know people planning to work at least a little bit over their vacations or, at the very least, keeping up with email daily. (How that isn't work is beyond us.) Is the actual getaway vacation a thing of the past when living in an always-connected society?
Traveling can be expensive, and sometimes when you finally get a break from work or the busy pace of life, the last thing you want to do is manage an itinerary and still have a schedule shoved in your face. Many people opt for a "staycation" when they have time off work. Is the staycation a valid vacation and, if so, do we like them?
The world is a big, wonderful place, but there are still dangerous places out there. Find out if there are places we'd love to see, but are afraid to visit -- and then find out what our dream vacations are.
We wrap up this week's episode by discussing our next planned vacations.
Have you had a wonderful vacation you'd love to chat about (or a tale of a vacation gone wrong)? Tell us about it in the comments!
---