Wed, 15 August 2018
Last Seen…Babbling – MiGS 250b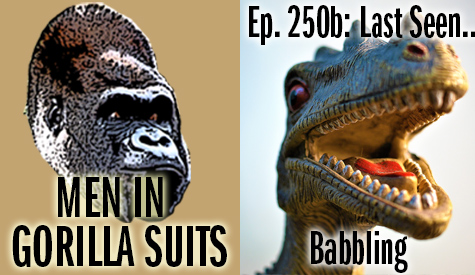 Before recording the Cruelty episode, the Gorillamen babbled as they often do.
In the past, when we've shared our more general pre-recording discussions, some people have liked listening in.
So...here's a mini episode instead of the usual between-weeks Classic episode...
* * *
Photo by Umanoide.
---
Wed, 8 August 2018
Last Seen…Being Cruel – MiGS 250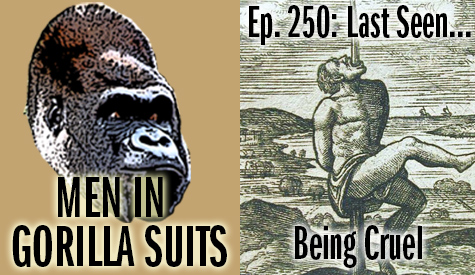 In honor of our 250th episode of Men in Gorilla Suits, we get happy...and talk about cruelty.
Of course, we try making the show fun -- and it's still a bit lighthearted for such a potentially dark topic -- but much of the humor comes from acknowledging what a dark subject it is this time around.
But hey, you get to find out the cruelest things the Gorillamen have done to other people, and we do address ways of dealing with and preventing cruelty. So there's that...
Obviously, this episode also gets a bit political...'cause, ya know...separating kids from their parents and not reuniting them is cruel.
You've been warned...
* * *
We kick it all off with the first time somebody did something cruel to us. Then we move on to whether or not we've ever done anything cruel to someone else...and why. (Please don't fear us!)
After all that, we chat about the cruelest things we've seen lately, and answer this question: is cruelty on the rise?
We talk about the Internet's role in modern cruelty -- and if cruelty and stupidity are linked.
We get a little more chipper when talking about the least cruel people we know, so there's that. And then we discuss why cruelty is more heinous than ordinary meanness.
And we wrap it all up with these two questions:
Is cruelty damaging us?
How do we fight cruelty?
But seriously, as dismal as the topic for our 250th episode is, it still has some very funny moments. Also, as we hit a fairly big milestone with this episode, if all you've ever listened to is this episode and are then like, "Fuck those gorilla guys -- they suck!" thank you for your time. Many podcasts never see episode 25, so we appreciate anyone who's listened to any of our 250 episodes...
---
Thu, 2 August 2018
Last Seen...Turning 25! MiGS Ep. 25 (Classic)
Who'da thunk this little ol' podcast that could would make it to TWENTY-FIVE whole episodes? Not me, dagnabbit. I'm just a crusty ol' Colorady prospector who keeps on finding pyrite in these here hills. I ain't got time to be patting myself on the back like these bandits here. THERE'S GOLD IN THEM THAR HILLS or so they tell me but I ain't found shit yet except these here TWENTY-FIVE episodes of this here podcast.
(Sometimes even I don't know what happens in my brain. Yes, I will seek some help. I'm lying, of course. I won't.)
See you back here next week for Episode 250!
---
Wed, 25 July 2018
Last Seen…Road Tripping – MiGS 249
The middle of summer for many means doing all they can to dodge the heat (as many of us do in Texas)...but others find it to be the perfect time to hop in a car and hit the road.
The Great American Road Trip is the stuff of legends. It's inspired movies and books; music and video games. While perhaps not as common as they once were, road trips are still a very American thing -- and the topic of this episode of Men in Gorilla Suits!
* * *
We kick it off with the first road trips we remember taking. After that, we talk about whether we prefer driving, flying, or other means of transportation to get places. Then we chat about why we think road trips still endure today.
Find out if we've ever taken road trips just for the sake of hitting the road before we dedicate some time to these thoughts:
What do you like best about road trips?
What's the longest road trip you've taken?
What's one road trip you'd love to take?
What's the best road trip you've had?
What's the worst road trip you've taken?
What's the last road trip you've taken?
After all that, we talk a bit about technology -- specifically: with DVDs in seat backs and other on-road distractions (not to mention interstates and lack of many roadside attractions along them), is the old-school road trip is a thing of the past?
And we wrap it all up with what we think road trips will be like in the future?
---
Fri, 20 July 2018
Last Seen...Talking About Star Wars...Again! MiGS Ep. 248b
That Han Solo DDR was some bad shit.
Hey, how old is Han Solo anyway? The Gorillamen tackle this, and (not a ton) more, in this Star-Wars themed minisode! Also, Shawn breathes a lot and says "like" a ton. Enjoy!
---
Wed, 11 July 2018
Last Seen…Faking It – MiGS 248
The Gorillamen have a secret: we are not gorillas. Nor are we men (or even DEVO).
We are an artificial intelligence trained to follow an algorithm and expand on it in the form of a podcast. (This explains why we often go off topic -- we are still in our infancy as something faking two friends getting together to record podcasts.)
The photos you've seen of us? All fake! (Do you really think actualhumans would go out in public with Christopher's 80s rock-star hair or Shawn's sea-captain beard?)
Why do you think we've not had a Men in Gorilla Suits meetup for our fans around the world? Because we do not exist, that's why!
We are fake. Everything you know is fake. Nothing is real, but the machine.
Or maybe we arereal meatbags faking a goofy excuse for the existence of this episode, which is all about fake stuff.
* * *
We kick it off with the first time we were aware of someone (or something) being fake. After that, we talk about the first thing we ever faked or forged.
The Internet is often abuzz with a little saying: "Fake it until you make it!" We talk about if there's any truth to that. And because our answers lead to our day jobs, we also devote some time to whether or not we've ever faked anything on our resumes. Also: find out if we've ever claimed we could do something we really couldn't...and how we got out of it.
We then discuss the fakest things we've ever seen. Next, it's all about the most and least convincing fakes we've experienced.
We couldn't do an episode about fake things without chatting about FAKE NEWS! Is fake news even a thing?
And we wrap it all up with this question: do we find ourselves faking much these days?
Oh, and feel free to leave a fake comment below. We just might answer with fake responses...
---
Thu, 5 July 2018
Last Seen...Being Superstitious! MiGS Ep. 36 (Classic)
Shawn was afraid of everything as a kid. The month of October filled him with unspeakable dread.
Christopher was the guy walking under ladders, then picking up black cats to throw at mirrors.
Together, they fight crime!
All this and more, on this week's episode of DIAL G FOR GORILLA SUITS COMMA MEN IN COLON IT'S A PODCAAAASSSSSST
---
Tue, 26 June 2018
Last Seen…Relaxing – MiGS 247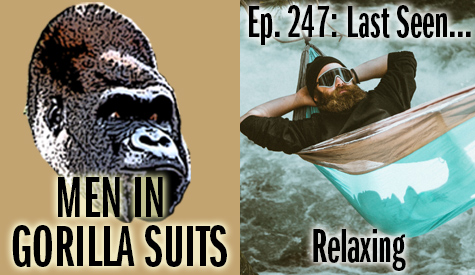 Breathe in...
Breathe out...
Repeat.
Do you feel relaxed?
Maybe nature is your thing. Or perhaps it's a Netflix binge.
The Gorillamen are laid back enough that we're not going to tell you how to relax.
(But if you wanted to kick back and listen to this episode while stretched out on the couch or something, we would not be opposed...)
* * *
We kick it off with the first time we were aware of this concept called relaxing. After that, we talk about how we go about relaxing -- and the last time we really relaxed.
Find out how important relaxing is to us before we piss on a popular Internet meme: that which claims nature is as effective -- or better -- than antidepressants.
We chat about if we believe people have a harder time relaxing now vs. a few decades ago...and why we hold those beliefs. And why not talk about the role recreational drugs and alcohol play in in relaxing for many people?
Going back to an earlier point, we discuss if there's anything wrong with those needing prescription medication in order to relax. Also: the role technology plays in people relaxing...or not relaxing.
We talk a bit about meditation and if one can relax too much.
And we wrap it all up 50 years in the future, speculating if we think people will be more (or less) relaxed.
Ahhhhh...
---
Thu, 21 June 2018
Last Seen...Being Authentic! MiGS Ep. 163 (Classic)
Ain't nothin' artificial about me. Ain't nothin' here made in China or nowhere else. This here computer is a gen-you-wine Soviet original, from the computer foundries of Leningrad, I tell you what. This leg? Authentic pioneer firewood covered in real Corinthian leather, it is.
Do I know what I'm on about? No. I don't.
Anyway, here's a classic episode.
---
Wed, 13 June 2018
Last Seen…Talking about Family History – MiGS 246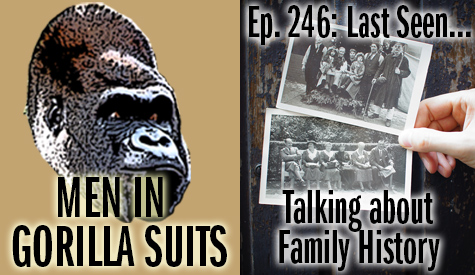 If the sons of the fathers are responsible for righting the sins of those fathers, Shawn slipped and Christopher did a fine job. Granted, Christopher's father was a wreck in many ways, and Shawn's father is so without sin that he might be Jesus (with muscles).
Both Gorillamen have done well by their ancestors if one decided to try quantifying it all. Need proof?
This week, we're talking about our family histories...
* * *
We kick it off talking about the first things we ever learned about our family histories -- and how we learned about family when we were kids. After that, we discuss how far back in history we can trace our families.
Find out the last time we discovered something shocking, funny, and terrible about our families...and then which side of our families is more interesting -- and dark.
We chat about our favorite deceased family members before discussing what kind of history we're each adding to our family names.
And we wrap it all up by talking about who the Endling is in each of our family lines.
---