Wed, 23 May 2018
Last Seen...Covering Tunes! MiGS Ep. 83 (Classic)
I don't know when I first realized he was watching me. At first, I thought he just lived in the house two over from mine of Live Oak (even though I never saw him move in, and come to think of it, I never really see anyone coming or going from that house). I'm home a lot these days, and it seems like every time I go outside, there he is.
I wave. He says nothing and stares. I attempt a hearty "Hey Neighbor!" He just stares.
He's in the front yard at the house on Live Oak, pretty much all the time. What's weird, though, is he doesn't seem to be doinganything out there. He's just standing. Waiting. Staring.
I mentioned him to my wife the other day. She's never seen him.
So, anyway... here's Wonderwall.
---
Wed, 16 May 2018
Last Seen…Adulting – MiGS Ep. 244
Gorilla Christopher would have put this all together for Gorilla Shawn much earlier in the week, but he had a software release at work and some extra things to write. Bills had to be paid, and he's running errands in the evenings this week in preparation for some Paid Time Off (PTO) next week.
But that's all okay, because Gorilla Shawn recently started a new job at a ridiculously reputable company. He's also working on a hearing regarding property taxes and trying to live a solid adult life in between it all.
Adulthood...
Oh, sure -- some people have parents who attempt to prepare them for adulthood, but most of it is a matter of figuring it out as you go. (Like most things in life.)
[And there's something oddly liberating that comes along with the day of that realization.]
So sit back and listen to the Gorillamen talk about what it is to be...ADULT Men in Gorilla Suits...
* * *
We kick it off with a simple enough question: Is being an adult like you imagined it would be as a child? After that, we talk about what surprised us about adulthood...and at what age we considered ourselves adults.
Find out if we feel like adults most of the time. After that, we discuss our chores as children...and as adults.
Even prepared, adulthood is not without its surprises. We chat about hidden responsibilities of adulthood no one mentioned when we were kids...and then devote some time to the best -- and worst -- things about being adults.
We touch on if we ever miss being younger...before chatting about the following question: is adulting hard?
And we wrap it all up with our futures in the adult world.
---
Thu, 10 May 2018
Last Seen...(Probably Not) Joining Cults! MiGS Ep. 121 (Classic)
One thing Shawn and his wife spend way too much time doing is watching documentaries about cults. Like, a disturbing amount of time. Which probably explains why Shawn knows tons of disturbing shit about cults, which also probably explains this episode.
Or he's just a creepy mofo.
Probably a little of both.
---
Wed, 2 May 2018
Last Seen…Talking About Professional Wrestling – MiGS Ep. 243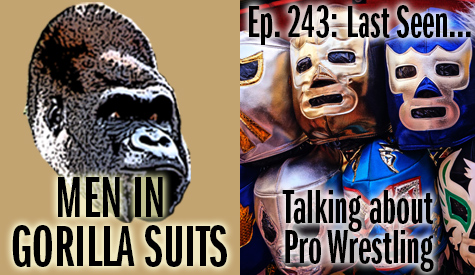 "TONIGHT, SHAWN-DAWG AND OGRE DEFEND THEIR TAG-TEAM PODCASTING CHAMPIONSHIP VS. ... well ... uhm ... HEY! They bought those cheesy belts at a Halloween store, and there's no such thing as the Tag-team podcasting championship! I told you wrestling was fake!"
Ah, professional wrestling -- with its history of terrible stereotypes and hokey gimmicks; its fake punches and scripted outcomes. The costumes, the characters, and all that comes with it.
But the Gorillamen maintain there is also a certain beauty to even Shockmaster's infamous debut.
So step into the squared-circle as we chat about professional wrestling this week...
* * *
We kick it off in the past, discussing the first times we ever saw professional wrestling. After that, find out if we still watch wrestling regularly.
We get through our lists of favorite professional wrestlers before discussing THE question: Is professional wrestling fake?
Then we talk about live matches we've seen -- and if we ever wanted to become wrestlers.
We chat about the appeal of professional wrestling, and then move on to professional wrestlers we've met.
Hardcore wrestling is quite a...thing. We discuss our thoughts on what compels people to willingly be put through flaming tables covered in barbed wire...and then we talk about the pressures put on professional wrestlers by the promotions they perform for.
And we wrap it all up with our favorite things about professional wrestling...and what the future holds for it all.
---
Thu, 26 April 2018
Last Seen...Talking Comedy! MiGS Ep. 62 (Classic)
So apparently, we recorded this episode in an airport bathroom well after closing time, because the reverb is just off the chain here. Unless I miss my guess, this was recorded in my old house during the Great Flooring Battles, which meant we were probably in a large, empty living room with no floors and no furniture trying to yammer this podcast into a Zoom H1.
Audio problems aside, this is a fun one. Shawn swears with parental permission. Christopher listens to comedy albums that are well above his maturity level at the time. Ziva snores loudly.
A good time is had by most.
---
Wed, 18 April 2018
Last Seen…Talking About Virtual Realities – MiGS Ep. 242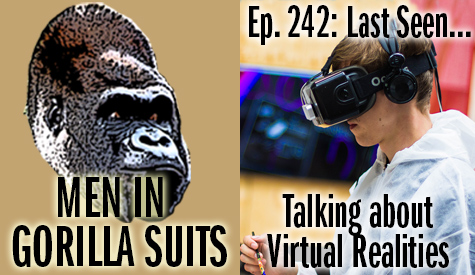 There are people who believe our reality is that we are all part of a computer simulation.
Futurists say that's not true, but that we will one day soon live in virtual worlds of our own devising.
Others say that any kind of virtual realities will never happen because we all look silly with big headsets strapped to our faces.
We can argue about these points, but one thing's certain: with recent leaps in virtual and augmented realities, big changes to technology are coming -- and that's what we're talking about on this week's episode of Men in Gorilla Suits. (Okay, so it's really about virtual reality, virtual worlds of games, augmented realities, and data modeling...)
* * *
We begin with our first experiences with virtual reality, and then talk about if we've ever modeled things before building them. Also: find out the last form of virtual and augmented realities we've used.
After that we discuss the best -- and worst -- virtual environments we've ever experienced. Getting personal, we chat about the most complex things -- and the dumbest things -- we've ever modeled before construction.
We talk about augmented reality's use in games like Pokemon Go and Ingress. Next, we devote some time to ways virtual reality, augmented reality, and data modeling are not being used in ways we'd like to see.
Find out what our ultimate virtual reality/augmented reality games would be like...and we wrap it up with the future of virtual and augmented realities.
---
Fri, 13 April 2018
Last Seen...Finding Themselves: MiGS Ep. 52 (Classic)
No audio intro today, kids, as your old pal Shawn JUST finished renovating his bathroom and is making no verbal sense right now.
Scars? Oh yes, I have scars.
*Blaze of Glory plays*
I remember this episode was fun, although I remember starting it with a regrettable "Who the fuck is you?"
Anywho, enjoy this classic episode. Back next week with a new one.
*Blaze of Glory cuts off*
---
Wed, 4 April 2018
Last Seen…Arguing – MiGS Ep. 241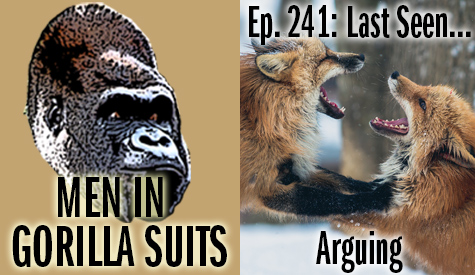 Go online, and you'll see people arguing about things.
Sit around in public long enough, and you'll see people arguing.
Hell, many people grew up with parents and other family arguing.
Sometimes it's arguing decent points, but other times it's just tense humans yelling at each other for the sake of yelling.
This week, we're all about arguing...don't tell us we're wrong!
* * *
We kick it off with the first arguments we remember hearing and then talk about the last arguments we've had.
Find out if we like arguing, if we argue well when we do argue, and if we think arguing is healthy.
We chat about why some people seem to love arguing so much -- and if it's important to learn how to argue well.
We devote a bit of time to whether or not we've changed anyone's mind in arguments, and how we feel about the Internet as a place to argue points.
We also discuss the role of emotions in arguing, and wrap it all up with advice we'd give to someone who has become fatigued by arguing so much.
You better not tell us why we're wrong in the comments!
---
Fri, 30 March 2018
Last Seen... Hacking Things! MiGS Ep. 122 (Classic)
Here are a few things you will only get if you listen to this episode:
Zork Cops
Zork Cops are Dead
I'm a Writer, Of Course I Have Binder Clips
Bosun's Whistle at 2600 Hz
Ferris Bueller is in Witness Protection
It's Harder For You To Buy Straws than it is to go to The Fucking Walgreens and Find the Travel Section
These and many more hits could be yours, for the low, low price of a download!
---
Tue, 20 March 2018
Last Seen…Talking About Appearances – MiGS Ep. 240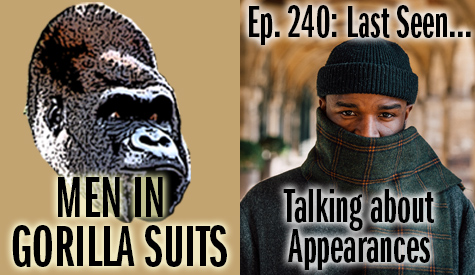 Look in the mirror and what do you see? Sure, there you are, but do you like what's reflected back at you?
Do you sometimes think about ways to improve your appearance?
It's hard not to look anywhere, really, and not think about appearance: magazines, commercials, and the shows and movies we watch often assault us with the mantra that we are nothing, unless we look as slick as these perfect people. (Who probably also have image issues.)
This episode ran much longer than our typical episode. We like to think much of it is funny, but at times it gets deeper, and we reveal things about the way we see ourselves that we've not talked about in 239 episodes. Hell, just the enthusiasm with which this episode was recorded leans toward a certain kind of appearance.
So sit back and enjoy knowing you're not alone when looking at mirrors...
* * *
We kick it off by discussing the first time we were conscious of our appearance...and what made us aware that appearance was even a thing. After that, we talk about if we've ever been obsessed with our appearances...and ways we've presented ourselves to others. Also: find out if we ever cultivated an appearance.
We devote some time to whether or not our families were ever concerned with keeping up appearances...and if we are concerned with appearances as adults.
We chat about how much time we devote toward our physical appearances -- and if it's even a concern for us to look good.
Next, we hone in on the one word we'd use to describe out appearances. Better than that: find out how we'd describe each other to a police sketch artist!
We share if the appearances we present to the world are accurate of who we are and, if not, how much it differs. Sticking along those lines, we chat about if most people we know are honest in the image they present to the world, or if they hide behind things they are not. Find out if we think presenting an image is damaging.
And we wrap it all up with the most important question one can ask: Beards...why?!
* * *
And just so you can appreciate the scarf the guy is wearing in this week's episode image, here's a bigger version.
(Dude's definitely got style!)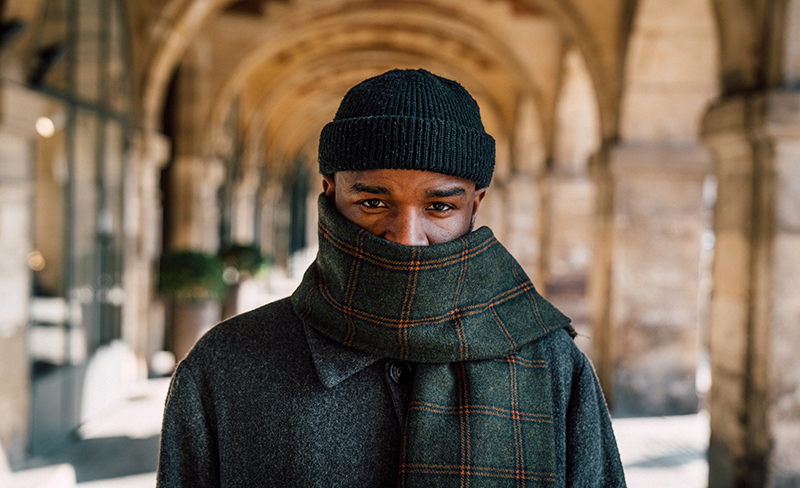 ---